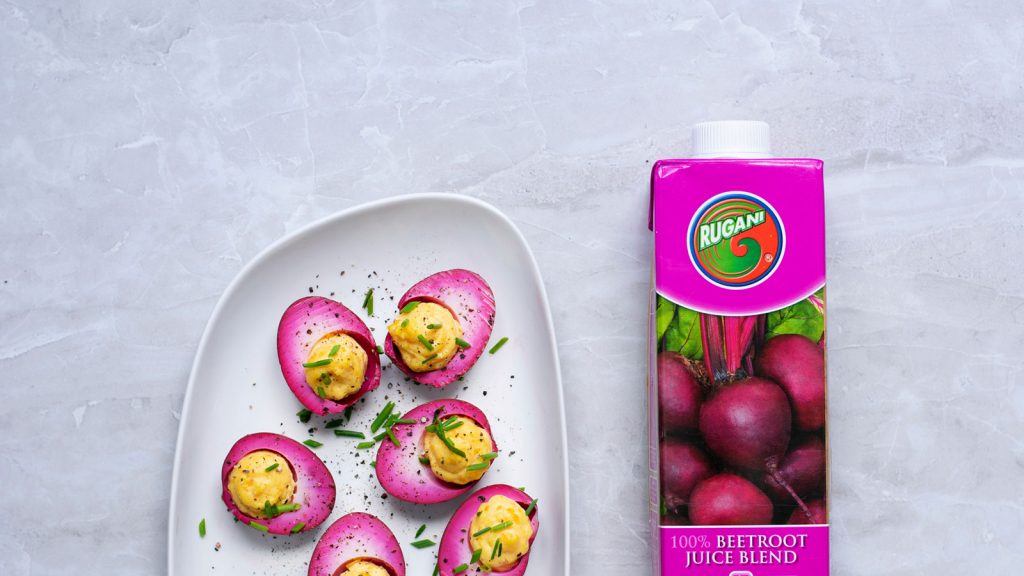 Ingredients
6 eggs
2 cups Rugani 100% Beetroot Juice
2 tbsp mayonnaise or yoghurt for a healthier option
½ tsp paprika
½ tsp Italian herbs
Fresh herbs or chives for garnish
Salt and pepper to taste
Instructions
In a pot, heat water until boiling point.

Lower eggs into the water and reduce to slow boil.

Cook for 7 minutes.

Remove the eggs from the water and place them in a bowl with ice-cold water.

Once cooled carefully peel the eggs.

Pour the juice in a bowl big enough to fit 6 eggs.

Position the peeled eggs in the bowl and ensure the eggs are covered to ensure the juice stains the whole egg.

Place the bowl in the fridge overnight.

Remove eggs from the juice (place the leftover juice in a container and freeze to use in soups and stews).

Carefully cut the eggs in half and remove the egg yolks.

Place the yolks in a bowl with the mayonnaise, paprika, Italian herbs, salt and pepper. Mix well until smooth.

Scoop the mixture into a piping bag and pipe it into the egg whites.

Top with fresh herbs. Serve immediately.