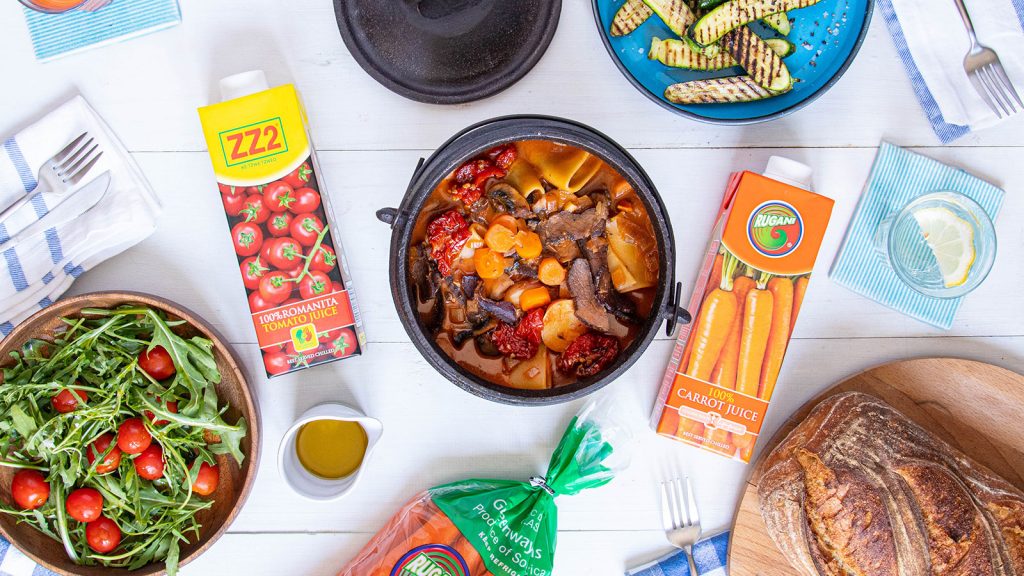 Ingredients
250 g mushrooms, sliced
250 g biltong
30 ml olive oil
2 onions (chopped)
3 garlic cloves (crushed and chopped)
1 beef stock cube/1 tsp powder
500g penne or large pasta tubes
Fresh Rugani Carrots, sliced
Patty pans
Baby potatoes
200 ml cream
Sundried tomatoes
Ground black pepper (to serve)
Flat-leaf parsley (chopped, to serve)
Method
Heat the olive oil in your potjie and fry the chopped onions until translucent.

Add garlic and mushrooms and continue to fry until the mushrooms are soft.

Mix the cube of beef stock with a little boiling water and add that to the garlic & muchrooms.

Add the Rugani 100% Carrot Juice and the ZZ2 100% Romanita Tomato Juice to the potjie. Mix everything well.

Add the pasta, biltong and baby potatoes. Stir everything well and cover the potjie with the lid. Let it simmer for about 5 minutes and then remove the lid.

Continue cooking, checking every 5 minutes to ensure that it does not cook dry. If it does cook dry, add some more juice.

Cook for 15 minutes, add the cream and cook for another 5 minutes.

Add the sundried tomatoes.

When the pasta is cooked the potjie is ready to serve.

Top with ground black pepper and freshly chopped flat-leaf parsley.