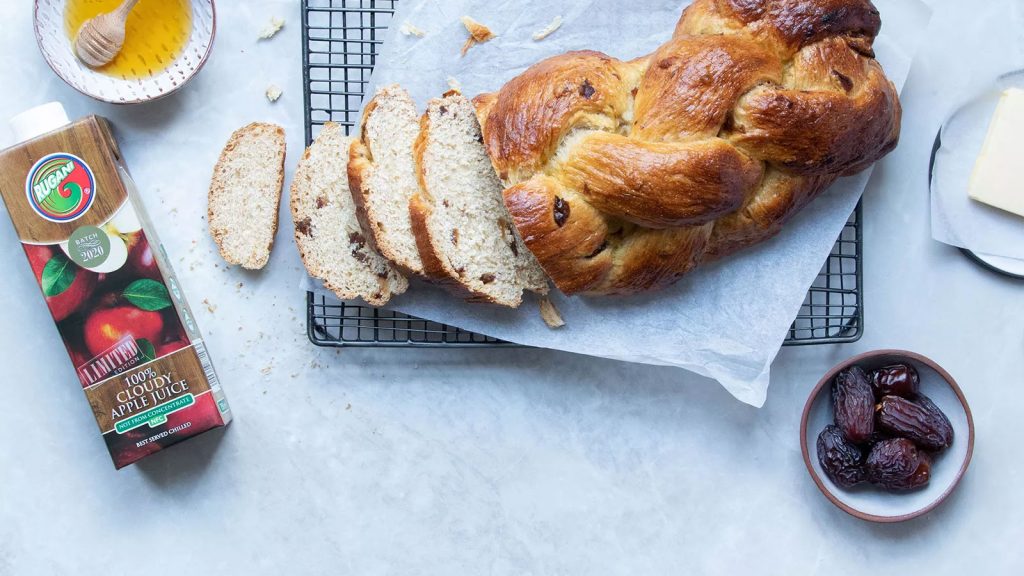 Ingredients
For the bread:
500 g all-purpose flour
5 g instant yeast or 20g fresh yeast (you can ask for some from your bakery)
1.5 tsp salt
20 g granulated sugar
1 egg
40 g unsalted butter melted and cooled
80 g ZZ2 Karas Medjool Dates, pitted and chopped
Egg wash:
1 egg
1 tbsp water
Method
For the bread
Mix all the ingredients, except the dates, until the dough comes together. The dough should be wet but not sticking to your fingers. Add more flour or more juice as needed.

Add the dates and knead the dough until it's incorporated.

Place the dough in a warm spot for an hour or until it's double in size.

Divide the dough into four equal portions. Roll them out into cylinder shapes.

Press the cylinders flat and then roll them into cylinders again, this will help the challah keep its shape.

Place the cylinders next to each other and sprinkle with flour to make sure they don't stick to each other when plaiting.

Push the top of the cylinders together, start plaiting until you reach the end, and then push the ends together again (see our video on how to do the plait).

Place the completed plait on a baking sheet with baking paper. Cover it with plastic wrap and place in in a warm spot to rise for an hour.
To egg wash the challah
Whisk together the egg and water.

Brush the challah with the egg water mixture. Let it dry and repeat.

Bake in a preheated oven at 180 ℃ for 30-40 minutes until golden.

All Rugani 100% vegetable and fruit juices are Kosher certified.