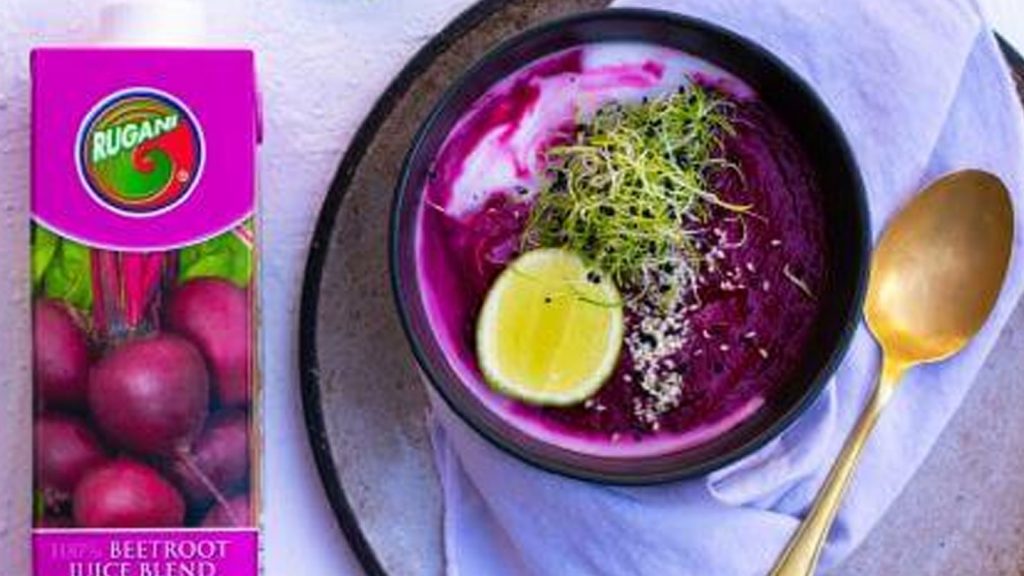 By Simone Nel, Yellow Papaya for Rugani Juice.
.
Not only is this soup a beautiful pallet of deep-purples, whites, greens and yellows but it also makes an impressive and hearty winter treat. Enjoy both the visuals and flavours of this delicious warm dish.
Ingredients
1 tbsp olive oil
4 large beets
1 red onion, diced
2 celery stalks, chopped roughly
1 leek stalk, cleaned and roughly chopped
1 cm ginger, minced
2 cloves garlic, minced
½ tsp black pepper ground
1 tsp salt or to taste
1 tsp cumin
2 tsp lime
2 cups vegetable stock
½ cup coconut milk
Garnish:
Sprouts
Sesame Seeds
Coconut Milk
Method
Preheat oven to 180 °C.

Remove the tops and the roots of the beets and peel each one with a vegetable peeler.

Cut the beets into quarters.

Place the beetroots in a roasting tray and sprinkle with half of the olive oil.

Roast beetroots for 40 minutes or until soft.

In a saucepan, heat the olive oil and fry the onion, celery, ginger, garlic and leeks together. Fry until golden brown.

Add the cumin, salt and pepper and fry for another minute.

Add the beetroot, vegetable stock and lime then cook until all the ingredients are soft.

Place all the ingredients in a blender and add the coconut milk and Rugani 100% Beetroot Juice Blend.

Blend until smooth. If you prefer a thinner soup add more of the Rugani 100% Beetroot Juice Blend according to your preference. Adjust seasoning to liking.

Garnish with coconut milk, sprouts and sesame seeds.