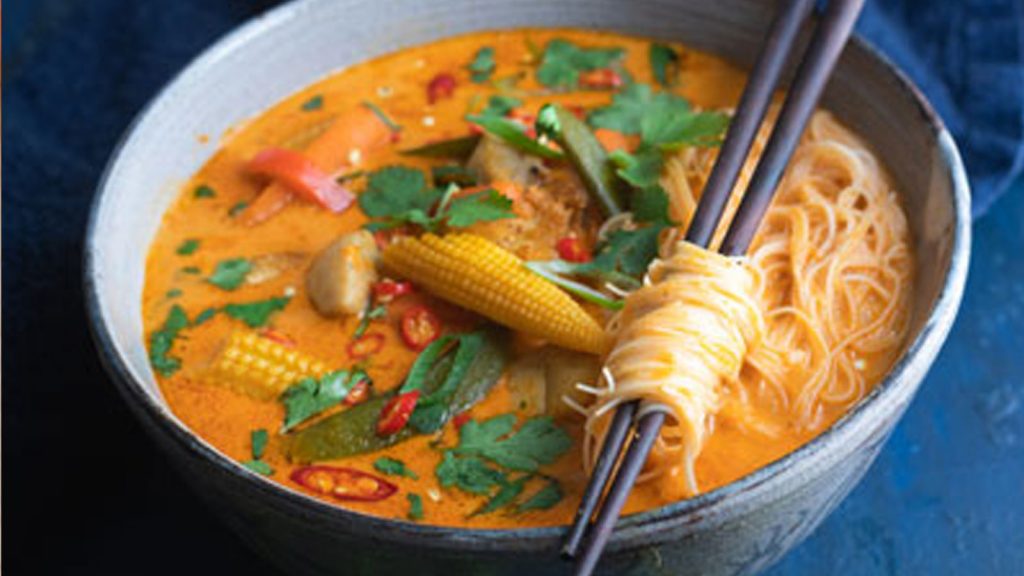 By Karl Tessendorf, Crush Magazine.
.
A delicious explosion of Asian flavors all nestled up in an easy dish for you to enjoy.
Ingredients
Vegetable or coconut oil for frying
500 g chicken breast or thigh, cubed
1 large onion, diced
1 red pepper, diced
3 garlic cloves, microplaned
1 knob of ginger, microplaned
2-3 Tbsp (20-45 ml) Thai red curry paste
2 tins coconut milk
120 g pack of baby carrots, julienned
120 g pack of sugar snap peas
135g pack of baby corn
1 Tbsp (15 ml) fish sauce
½ Tbsp (15 ml) sugar
100 g vermicelli rice noodles
To Serve
Fresh coriander, roughly chopped
3 limes cut into cheeks/wedges
1 spring onion, sliced 1 red chilli, sliced
Method
Add the oil to a large pot over medium-high heat. Brown the chicken on all sides then remove from the pot and set aside.

Turn the heat down to medium, add another splash of oil and add the onions and peppers. Cook until the onions are translucent.

Add the garlic and ginger and fry for a minute. Add the curry paste and fry, while stirring, for a further minute until fragrant.

Add the coconut milk and Rugani Carrot & Ginger Juice and stir well to combine. Add the carrots, peas, corn and chicken to the pot. Stir in the fish sauce and sugar then bring the pot to a boil. Once it has reached a boil, reduce the heat and simmer for 10 minutes.

Remove the pot from the heat and add the rice noodles. Cover with a lid and let the noodles sit for 5 minutes to cook.

Serve bowls of soup with a garnish of fresh coriander, spring onion, red chilli and a squeeze of fresh lime.