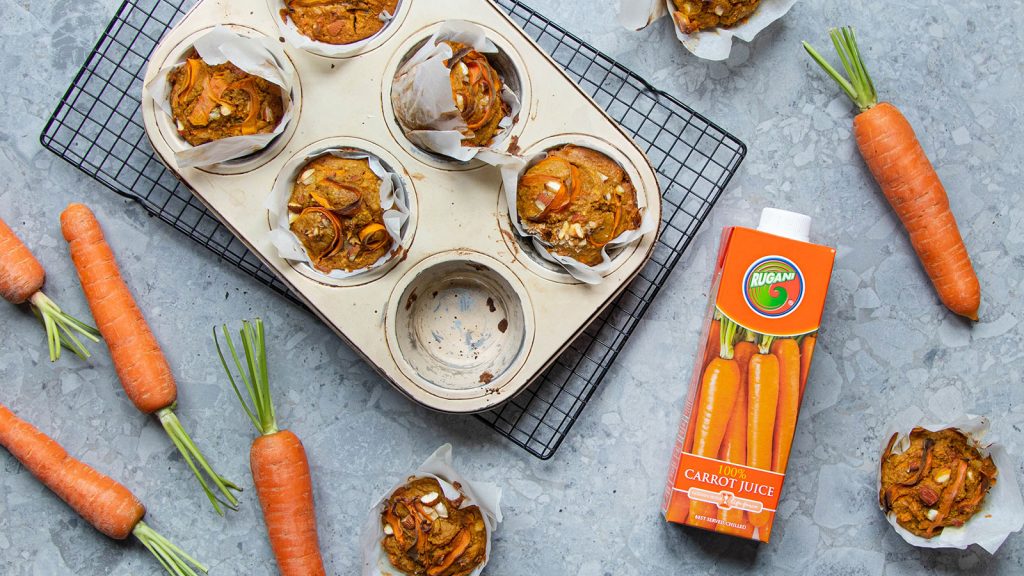 By Melissa Lain, an Integrative Nutrition, Health and Wellness Coach
.
Your family (and your waist) will love these guilt-free muffins! They make convenient breakfast or lunchbox options for busy families and the added Rugani carrots and Rugani 100% Carrot Juice, ensures a beta carotene nutrient boost (because beta carotene is heat stable).
Ingredients
1/2 cup almond milk
1/4 tsp vinegar
1/4 cup coconut oil (melted and cooled down)
1 large egg/chia seed egg
1 tsp vanilla extract
6 large dates finely chopped
3 - 4 medium sized fresh Rugani carrots grated (about 1 1/2 cups)
1 1/2 cups rolled gluten-free oat flour/all-purpose flour
1/2 cup mixed nuts roughly chopped
2 tsp cinnamon
1/3 cup coconut sugar
1 tsp baking powder
1 tsp baking soda
1/2 tsp sea salt
Method
Gluten-free oat flour
Place oats into a blender until fine.
Chia seed egg
Mix 2 tablespoons of ground chia seeds with 3/4 cup of water, let it stand for 15min before using.
 Muffins
Preheat the oven to 180 ℃ and line muffin tin with 12 liners.

Combine milk, Rugani Juice, vinegar, coconut oil, egg/chia seed egg and vanilla with an electric mixer.

Add in the chopped dates and grated carrots, and mix again.

In a separate bowl, whisk together the remaining ingredients and add it to the wet mixture. Mix until just combined.

Scoop out the batter, filling muffin liners 3/4 full.

Bake for 20 - 25 minutes, checking that a toothpick comes out clean.

Let it cool on a rack for 20 minutes and enjoy!