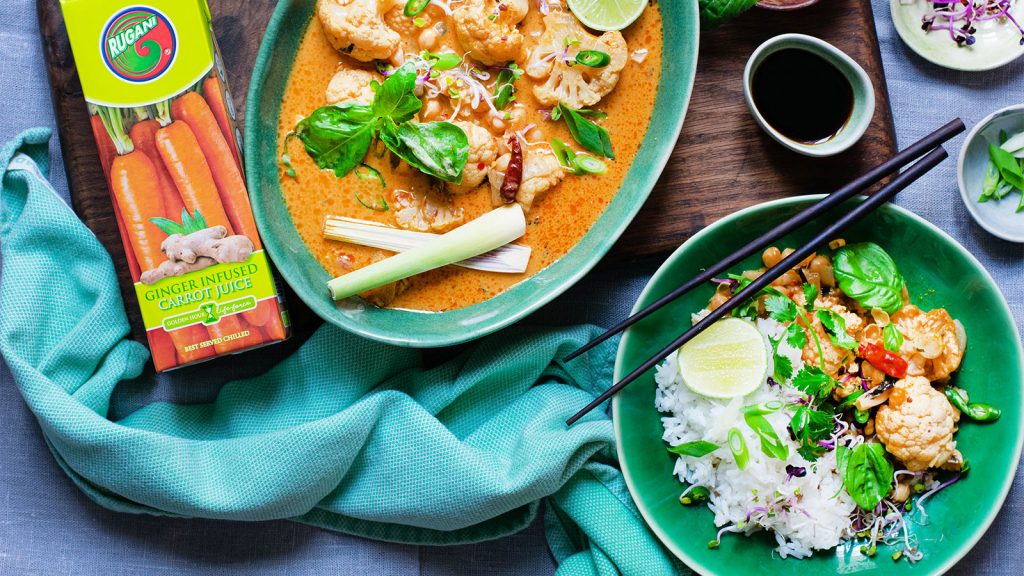 Ingredients
2 onions, thinly sliced
1 tbsp olive oil
1 tablespoon grated fresh ginger
2 garlic cloves, minced
2 medium potatoes, peeled large dice
2 Rugani carrots, sliced
1 kg chicken thighs, skin on (or skin of for a low-fat option)
1 tomato, diced
1 teaspoon chilli powder
2 teaspoons masala (cumin, coriander, fennel, star aniseed, chili powder, cinnamon, nutmeg, cloves, allspice, and bay leaves.)
1 cup of chicken stock
2 cups Rugani 100 % Turmeric infused Carrot Juice
Instructions
In a pot over low heat, add onions and olive oil and cook them until golden brown.

Add fresh chopped tomato and carrots, and cook for a further 3 minutes.

Add garlic, ginger, and all of the spices, and stir well.

Add the chicken, potatoes, the Rugani 100% Turmeric infused Carrot Juice and chicken stock to the pot.

Cover the pot and simmer for 45 – 60 minutes until the chicken is fully cooked and the potatoes are soft. Alternatively, you can place an ovenproof pot with the lid on in the oven for 1 hour at 180 ℃.

When the chicken is soft you can mash some of the potatoes into the sauce and cooked uncovered for a few minutes, to thicken the sauce.

Serve with basmati rice and naan bread, or rotis.