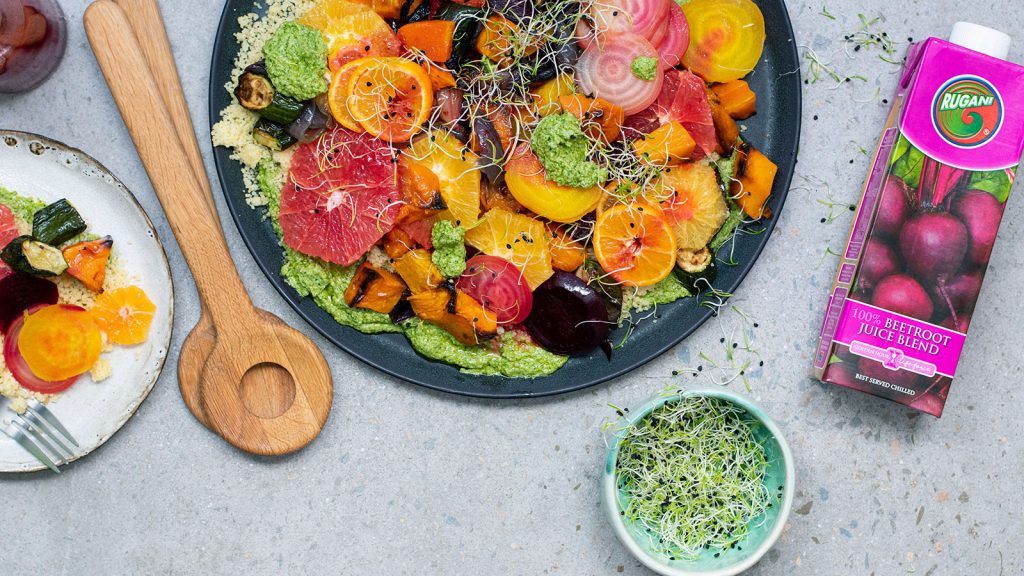 Salad does not need to be ordinary or bland. This recipe challenges the norms in a satisfyingly delicious manner: combining fruit and vegetables, warm and cold, cooked and warm.
.
Ingredients
For the salad:
400 g rainbow beetroot, cooked till soft and sliced
300 g butternut, cubed
3 small baby marrow, sliced into 3 cm pieces
1 red onion
1 cup cous cous
1 tsp salt
½ tsp cumin
2 naartjies, skinned and sliced
1 orange, skinned and sliced
1 grapefruit, skinned and sliced
1 tbsp
For the Pesto:
2 cups rocket, tightly packed into the cup
½ cup extra virgin olive oil
½ cup cashew nuts
2 cloves of garlic
½ tbsp lemon juice
3 tbsp nutritional yeast (optional)
For the beetroot dressing:
3 tbsp extra virgin olive oil
1 cup cous cous
Herbs or sprouts for garnishing.
Method
Preheat oven to 180 ℃.

Place the butternut, onion, and baby marrow on a roasting tray and drizzle with one tablespoon of the olive oil and ½ tsp of salt.

Roast for 30-35 minutes or until the veggies start to crisp up on the edges.

While the vegetables are roasting, add the cous cous to a bowl. Add one cup of boiling water and ½ tsp of salt and ½ tsp of cumin to the cous cous. Cover with a lid or cling film until the water has absorbed into the cous cous. Once absorbed fluff the cous cous with a fork until separated. Keep aside.

Make the rocket pesto. Blend all of the ingredients for this in a blender until smooth. You can keep the pesto in the fridge for up to two weeks.

Make the dressing. Mix all the ingredients for the dressing in a bowl with a whisk. Keep aside until ready to serve.

Remove the roasted vegetables from the oven.

To assemble, spread some of the pesto on the bottom of a salad platter. Top with the cous cous and layer with the vegetables, citrus fruit and beetroot. Drizzle with beetroot dressing and then sprinkle some herbs or sprouts on top.

Serve immediately while still warm.