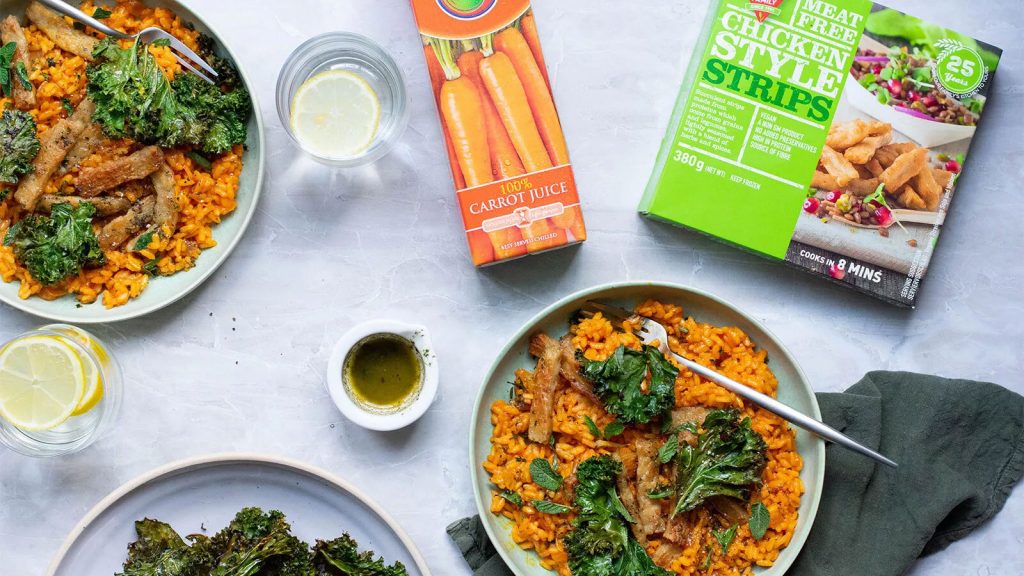 This recipe is a lovely, filling vegan dish, perfect for lunches, dinners and even to take with to work in a lunch box.
.
Ingredients
1/2 Cup / 110 g onions, chopped
½ cup / 110 g leeks, sliced
1 tsp garlic, minced
3 tbsp extra virgin olive oil
1 cup / 220 g risotto rice
1 cup / 250 ml vegetable stock
½ tsp black pepper, ground
2 tbsp nutritional yeast (optional)
1 small bunch kale, washed, dried well and stems removed
1 pack Fry's Chicken Style Strips cooked according to package instructions
3 sprigs mint, extra for serving
Method
Pre-heat oven to 180 °C.

Evenly coat the kale with half the olive oil & 1 tbsp nutritional yeast.

Without overlapping the kale, place on a baking tray & bake until crispy (10-15 mins).

Over medium heat, heat the Rugani 100% Carrot Juice & stock in a small saucepan.

Using another saucepan, saute the onions & garlic over medium heat for 3-5 mins.

Add the risotto rice and cook for another minute. Reduce the heat to low.

Add ½ cup of juice-stock mixture and stir the risotto until mixed through.

Leave the risotto to cook until all the liquid has evaporated and bubbles start to form. Add another ½ cup of juice-stock mixture, waiting again until the liquid has evaporated. Do this until all the juice-stock mixture is finished and the risotto is al dente (not soft just firm to the bite).

While the risotto is cooking, make the mint oil by blending the mint and 1 tbsp of olive oil until the mint is finely blended. Keep aside until serving.

Add the black pepper and 1 tbsp of nutritional yeast. Cook until creamy.

In a pan, fry the Fry's Chicken Style Strips in a little bit of oil for 6-8 mins.

Serve the risotto warm, topped with the Fry's Chicken Style Strips, crispy kale, and a drizzle of mint oil.