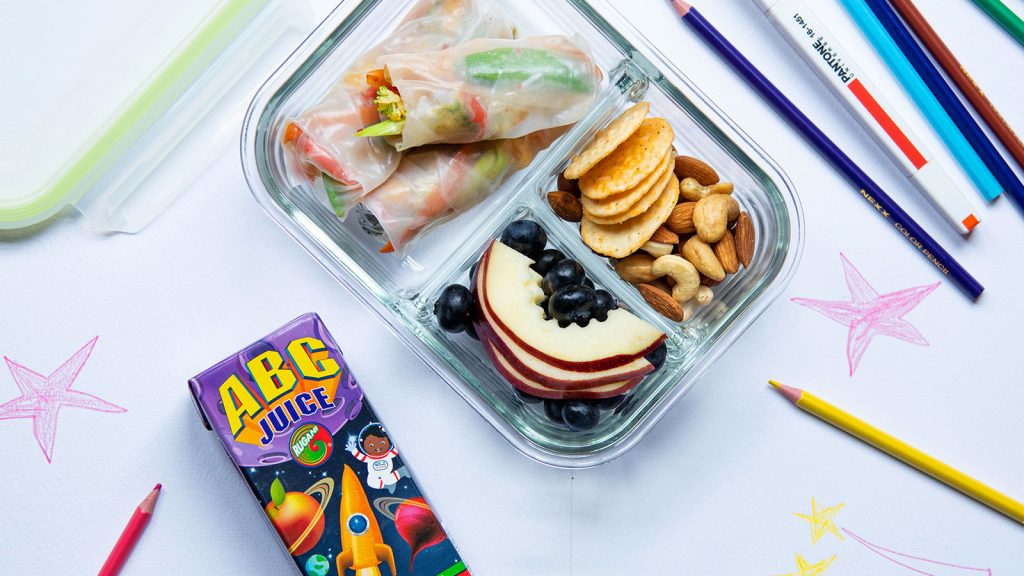 By Melissa Lain, an Integrative Nutrition, Health and Wellness Coach
.
This delicious and cost-effective dish is the perfect example of cook once, eat twice! The stir fry dinner transformed into a fun lunch option the whole family will love the next day. Rugani's 100% vegetable juices are also so versatile – it adds more nutrients to the dish when cooking with it and it makes for a nutritious beverage to enjoy with the wraps at lunchtime.
Ingredients
Stir Fry Ingredients:
Cooked chickpeas
Broccoli
Carrots sliced into strips
Red pepper sliced into strips
Sugar snap peas
Raw cashews
Chilli flakes (optional)
Salt & pepper to taste
Stir Fry Sauce:
2 Tbsp low sodium soy sauce
2 Tbsp rice/red vinegar
2 Tbsp honey/maple syrup
1/2 tsp cornstarch
Ingredients for the wraps:
Rice paper sheets or nori wraps
Leftover stir fry
Method
Method for Stir Fry:
Roast your cooked chickpeas in a hot wok.

Add salt, pepper and chilli flakes to taste.

Add carrots and fry until halfway cooked, then add the rest of the ingredients.

Mix all the Stir Fry Sauce ingredients together and coat the stir fry with it, adding a little more water to the pan if it's too dry.

Enjoy with cooked rice or noodles of choice.
Method for the wraps:
Fill a bowl with warm water.

Dip rice paper in warm water for about 3-4 seconds, until rice paper becomes moistened with water & lay the wrapper onto your work surface.

Allow the rice paper to soak up the water drops and become soft and pliable (about 30 seconds to 1 minute) before you start to roll. If your wrapper is too wet and still soaking up the water, it will be very difficult to roll.

Use the leftover cooled down stir fry as a filling for your wrap. Don't fill it with too much stir fry as the wrap may tear.

Layer your filling ingredients on the edge of the wrapper closest to you. Gently pull away the edge of the wrapper from the work surface and slowly start to roll over the filling, away from you.

"Tuck" in the filling toward you to keep the roll tight.

Pack your lunchboxes & enjoy it with a Rugani 100% ABC Juice!