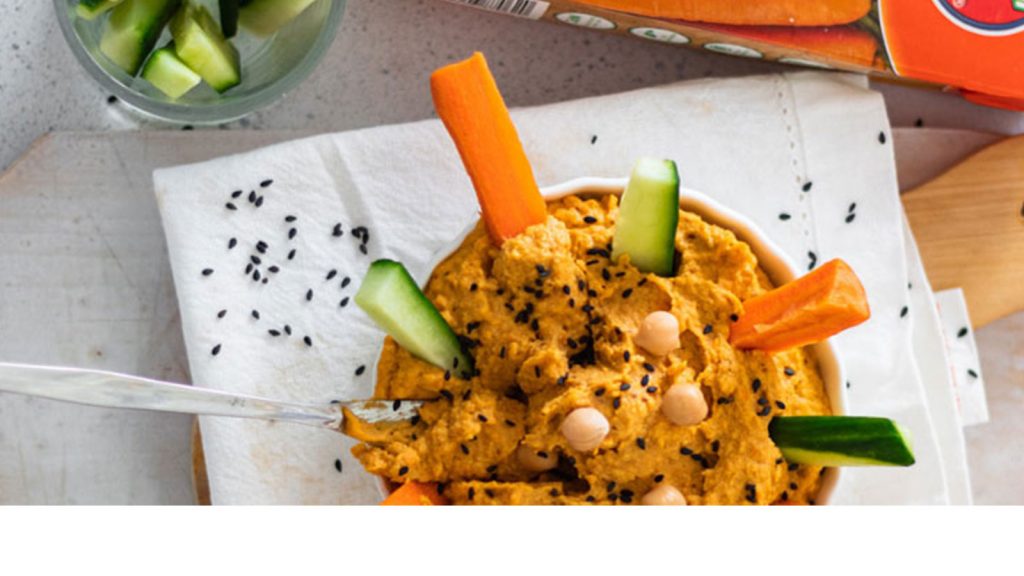 By Michaela Leach, from Health Alignment – Plant-Based Chef, Food Photographer, recipe developer and soon to be Certified Vegan Nutrition Health Coach.
.
This delicious & easy to make Roasted Carrot Hummus recipe gives a different take on your traditional hummus. It's made with fresh Rugani Carrots and Rugani 100% Carrot Juice added. This recipe is so easy to make, it's creamy with just a slight touch of sweetness and goes down so well with some veggie sticks like carrots and cucumber or have it on some toasted bread or crackers.
Ingredients
1 tin of chickpeas rinsed and drained
150g roasted Rugani carrots
1/4 cup tahini
1/3 cup olive oil
1/2 Tbsp ground coriander
Salt and pepper to taste
Method
Preheat your oven to 200°C.

Using a sharp knife, slice your carrots nice and thin.

Place the carrots on your baking tray and toss them with a little olive oil, salt and pepper.

Place in the oven to roast for 15-20 minutes.

Remove from oven and allow to cool for a couple of minutes.

Now on to the hummus. Place all your ingredients for your hummus, including the roasted carrots, into your blender and blend until smooth.

Pour into your serving dish and chill in the fridge for 10-15 minutes.

Enjoy it with some veggie sticks, toasted bread or crackers.