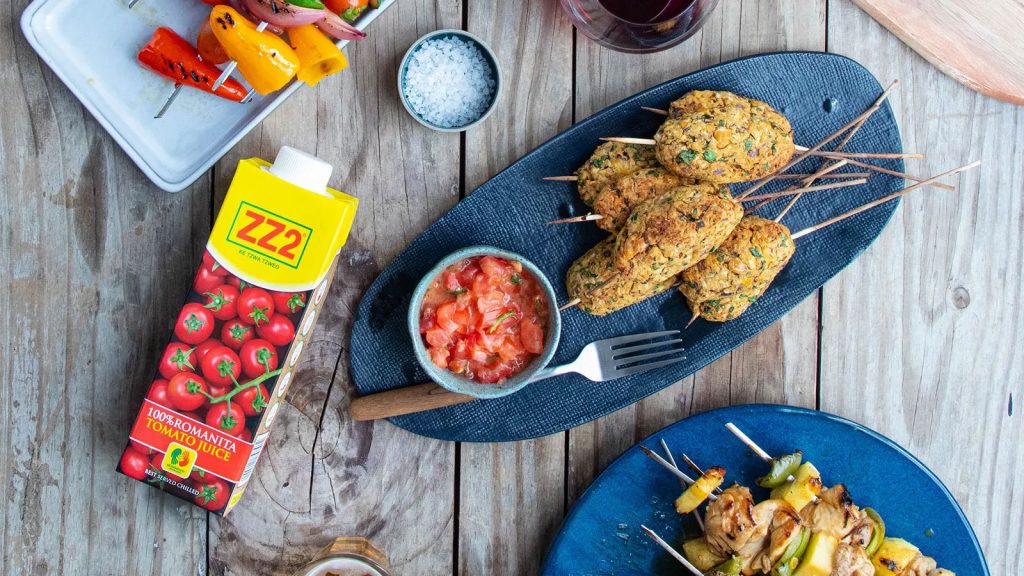 Ingredients
For the koftas:
1 cup dried chickpeas soaked overnight (you have to use dried chickpeas, canned chickpeas won't hold together and your kofta will fall apart)
½ red onion roughly chopped
50 g parsley roughly chopped
25 g coriander roughly chopped
1 tsp dried chilli flakes
3 garlic cloves
1 tsp cumin
1 tsp salt
½ tsp coriander, ground
1/4 tsp black pepper
2 tbsp chickpea flour
1/2 tsp baking powder
1 tsp sunflower oil for brushing
8 Bamboo skewers sticks
For the tomato salsa:
200 g ZZ2 Romanita tomatoes, cut in half and deseeded
1 tsp olive oil
3 sprigs parsley
1 clove garlic, finely chopped
Salt and pepper to taste
Method
For the salsa
Place all the ingredients for the salsa in a food processor or blender and pulse until the mixture is chunky.
For the koftas
Soak the chickpeas in water overnight the day before making the koftas.

Prepare a baking tray by wrapping it with foil and brushing with sunflower oil. Keep aside.

Drain and rinse the chickpeas and add them to your high-speed blender.

Add spices and herbs, salt and pepper, and pulse until the texture resembles that of course bread crumbs.

Place the kofta mixture in a bowl, and add the chickpea flour and baking powder. Cover and refrigerate for 30 minutes.

Remove the kofta mixture from the fridge and then roll them into cylinders about 4 cm long.

Place the kofta in your hand and then shape it around the bamboo skewer till it forms a shape resembling a long potato.

Place on the prepared baking tray and place over hot coals turning frequently to make sure they don't burn. Cook for 10-15 minutes until brown and crispy.