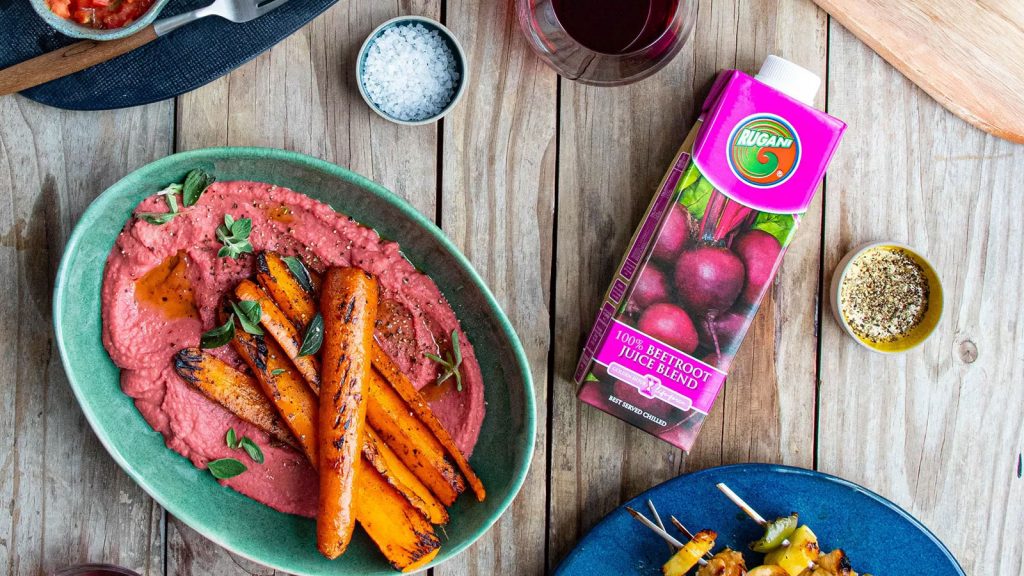 Ingredients
For the carrots:
500 g Rugani Fresh Carrots
½ tbsp olive oil
Salt and pepper
For the butter bean hummus:
1 can butter beans drained and rinsed
2 cloves garlic
2 tbsp olive oil
1/2 sea salt
1 tbsp tahini
2 tbsp fresh thyme
Method
Butterbean hummus:
Add the butter beans into your blender with the garlic, lemon juice, tahini, 50 ml Rugani 100% Beetroot Juice and olive oil.

Blitz until smooth and creamy, add a little more beetroot juice to loosen as needed. Season to taste and blitz again.

Place in the fridge until serving.
Carrots:
Brush the carrots with the olive oil and season with salt and pepper. Place on the braai grid and place over low heat coals for 20-25 minutes turning often.

Serve with the butterbean beetroot hummus and drizzle with extra olive oil.