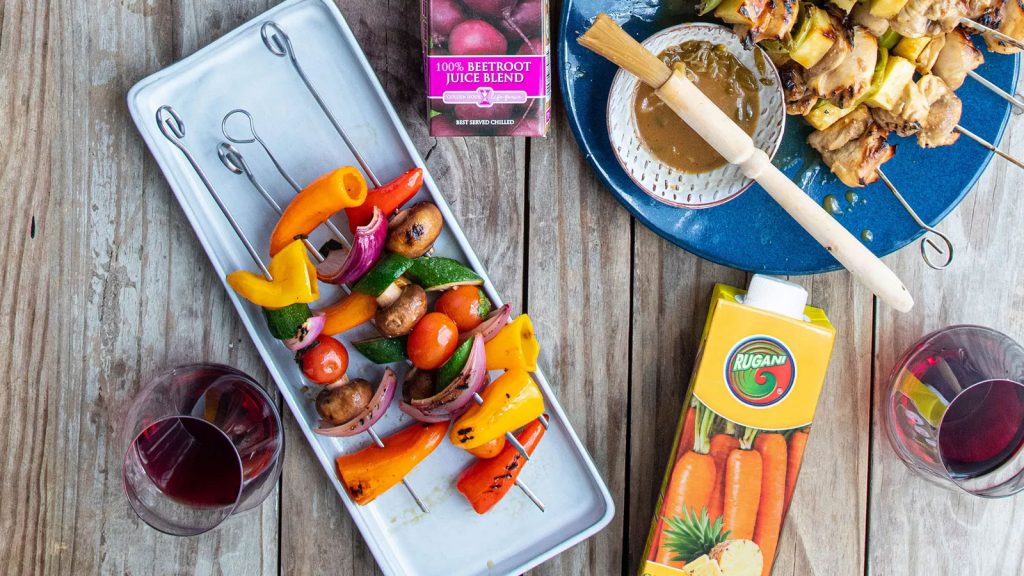 Ingredients
For the skewers:
4 cups vegetables including onions, mushrooms, peppers, baby marrow, cherry tomatoes
8 Bamboo skewer sticks/metal skewers
For the Marinade:
1/3 cup olive oil
1/4 cup fresh lemon juice
3 tablespoons Dijon mustard
2 tablespoons honey
2 cloves garlic minced
1 teaspoon basil, parsley & oregano (each)
1/2 teaspoon salt
1/2 teaspoon freshly ground black pepper
Method
Wash and chop all veggies into 2 cm x 2 cm chunks.

Combine all marinade ingredients in a large Ziplock bag or in a bowl with a reusable lid.

Marinate overnight or for at least four hours before you plan to assemble the skewers.

On the day of the braai, soak the bamboo skewer sticks in water for an hour to keep them from burning on the braai.

Skewer the marinated vegetables onto the sticks, alternating between the different vegetables.

Cook on medium heat coals for 20 minutes or until just tender.