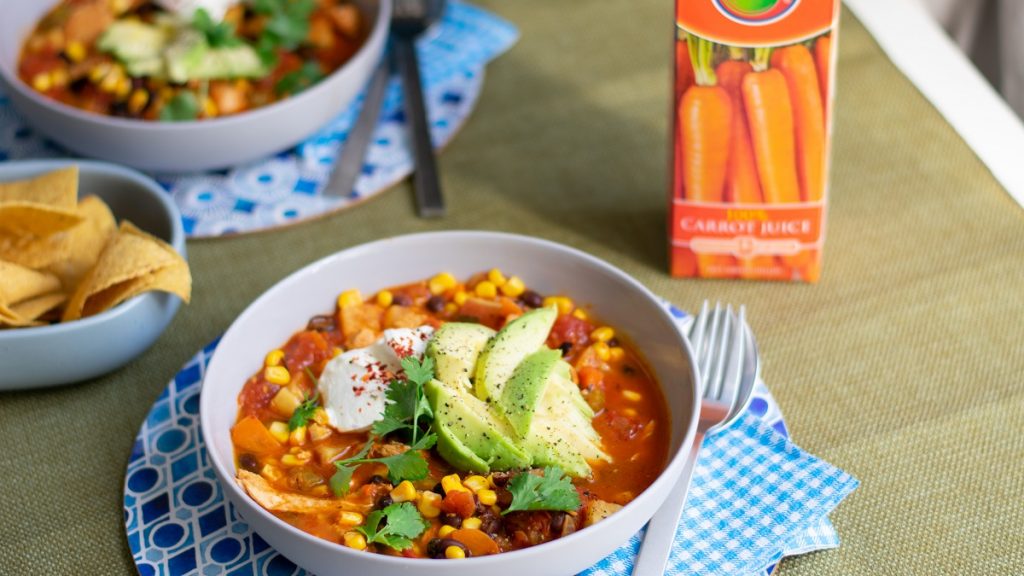 By Simone Nel, Yellow Papaya for Rugani Juice.
.
Entice yourself with this Eastern-style gourmet dish. Spicy, flavoursome and satisfying. Great for an in-home restaurant meal.
Ingredients
4 boneless skinless chicken breasts, sliced
1 large onion, chopped
3 tablespoons olive oil
1 tsp dried red chili
4 garlic cloves, minced
2 teaspoons ground cumin
1 teaspoon ground coriander
1 tsp dried origanum
1 can black beans, rinsed and drained
1 can chopped tomatoes
1 can corn, drained
1 cup water vegetable stock
Method
In a large pot sauté the chicken and onion in oil unit the chicken is no longer pink, about 5 minutes.

Add the chili, garlic, cumin, coriander and origanum and cook for about a minute.

Stir in the beans, tomatoes, Rugani 100% Carrot Juice, stock, sweet potato and bring to a boil.

Reduce the heat and cook for another 20 minutes or until the sweet potato soft.

Add water if the chilli becomes too thick, the end consistency should be that of a stew.

Serve with avocado, sour cream and corn chips.