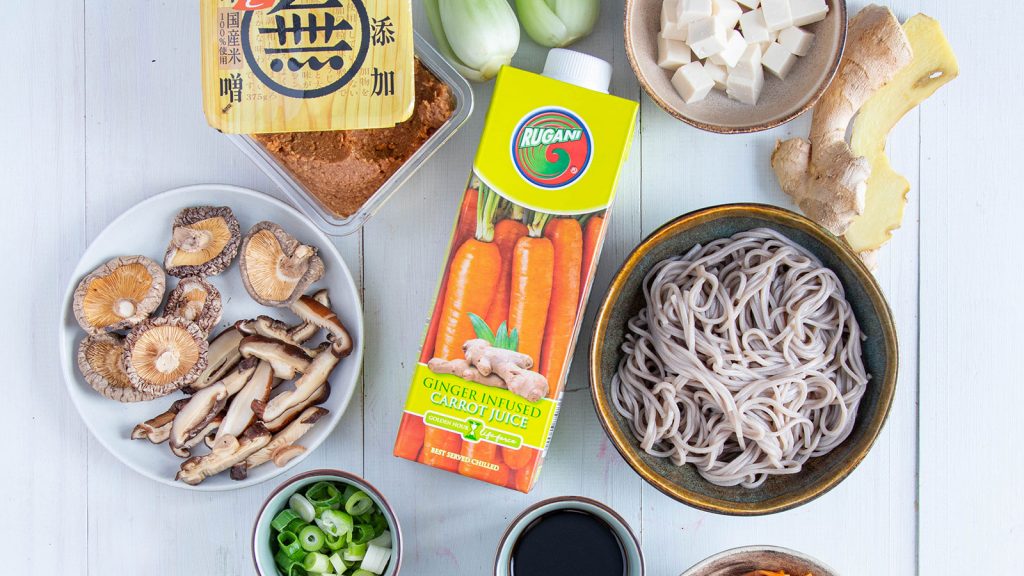 Ingredients
Ramen Stock
15 ml / 1 Tbsp vegetable oil
2 Rugani carrots, finely chopped
2 celery stalks, finely chopped
5 cm piece of ginger, peeled and sliced
4 garlic cloves with skin on, crushed & cut across
1 clove peeled and finely grated
4 spring onion, cut into 2 cm pieces
Coarse sea salt
10 dried shiitake mushrooms, soaked overnight (keep the liquid to add to the stock)
Flavourings
45 ml Asian sesame paste, tahini or peanut butter
20 ml soy sauce
20 ml miso paste (GF if required)
60 ml rice wine vinegar
20 ml mirin
20 ml chilli oil or toasted sesame oil
Topping suggestions:
Noodles (GF if required), 150 g precooked noodles, per bowl
Steamed pak choi or broccoli
Thinly sliced shiitake mushrooms, from the broth
100 g of your favourite tofu, per bowl
Spring onions thinly sliced
Sesame seeds, to garnish
Method
Place all the ingredients for the stock in a large pot. Cook for approximately 1 hour on low heat.

Remove the ginger and shitake mushrooms from stock and slice the mushrooms.

Add the ramen flavourings and mix well.

Add toppings of choice.

Serve immediately.