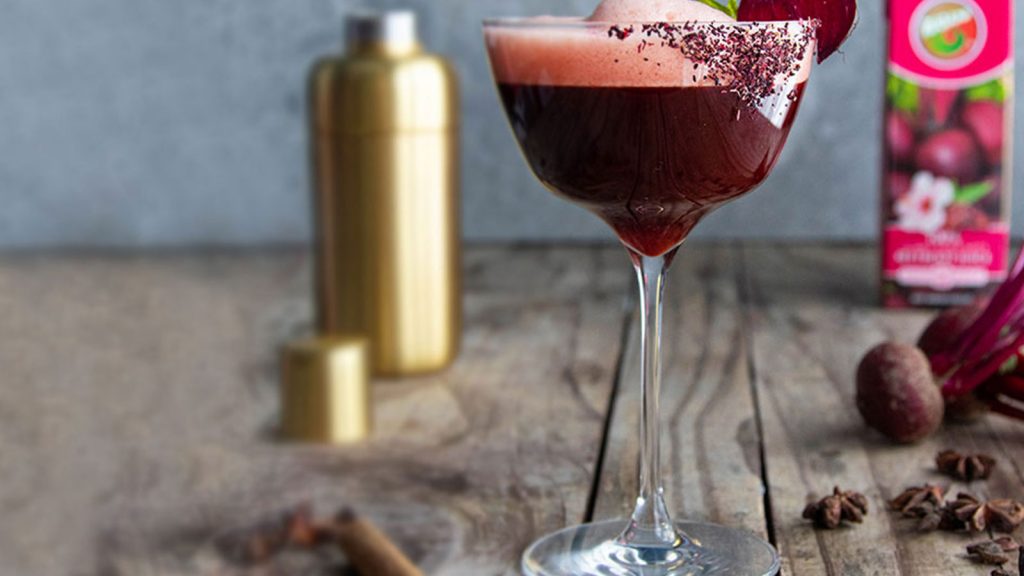 By Jean Harkett from The Big Feast, wine & spirit hobbiest, and lover of food & travel.
This dramatic Beetini Mocktail will wow your guests. The dark earthy tones of the beetroot, combined with warm spices & the sweetness of pineapple juice makes this a luxurious (and nutritious) aperitif.
Ingredients
To make the hibiscus tea syrup:
1 cup water
1 cup sugar
3 cinnamon sticks
1 tsp cloves
2 hibiscus tea bags OR 2 Tbsp dry hibiscus flowers
Mocktail:
15 ml Hibiscus tea syrup (ingredients above)
The juice of half a lemon
50 ml coconut water
White of one large egg (Aquafaba and Foamee can be used as a substitute**)
Method
Hibiscus tea syrup:
In a small saucepan, heat the water, cinnamon sticks and cloves.

Allow it to simmer for about 5 minutes.

Add the hibiscus tea bags (or dried flowers) to the pan and allow it to simmer for a further five minutes.

Remove the pan from the heat and allow it to steep for a further 10 minutes, while it cools down.

Fine strain the spices and flowers out of the liquid, then let it cool further.

This simple syrup can be kept in a sealed and sanitised glass container for two weeks.
Mocktail:
Add some ice to a shaker.

Wet shake all the ingredients (except the egg white) for 15 seconds until chilled.

Remove the ice with a spoon and add the egg white, Aquafaba or Foamee.

Dry shake for between 20-30 seconds.

Strain into a coupe glass.

Your cocktail will settle with a luxurious foamy top.

Garnish with dried rose or hibiscus petals and fresh mint.
How to substitute egg white
Shaking an egg white creates a silky foam top on your cocktail that will definitely wow your family and friends. If you don't like the idea of egg whites, you can substitute it with Aquafaba. Aquafaba is the viscous water that can be found in a can of chickpeas (or when you take dried chickpeas and cook it in water).

One large egg white equals 2 tbsp of Aquafaba. Alternatively, buy an off-the-shelf product such as Foamee and add about 5 drops to the liquid before you dry shake it.