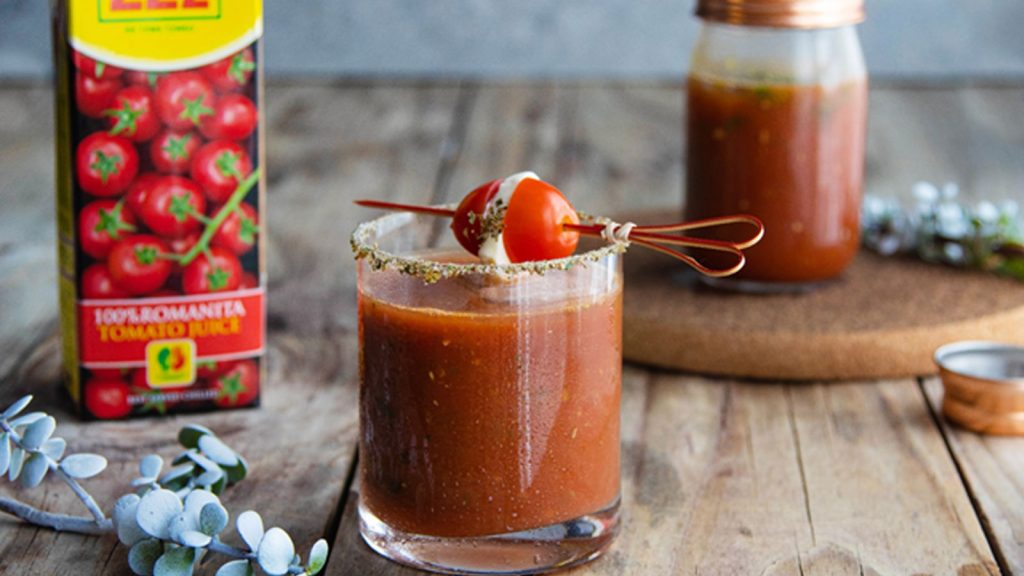 By Jean Harkett from The Big Feast, wine & spirit hobbiest, and lover of food & travel.
This mocktail is a twist on the traditional Bloody Mary. It takes inspiration from the freshness and mimics the style of a classic Caprese Salad, making it the perfect aperitif.
Ingredients
Caprese Skewers:
2 small mozzarella slices (or vegan mozzarella) – equal in size to that of a cherry tomato, cut 5 mm thick
2 fresh basil leaves
2 cherry tomatoes
1 Tbsp extra virgin olive oil
1 Tbsp lemon juice
For the Mocktail:
Ice cubes
Pinch of celery salt for the cocktail and 1 Tbsp to rim a glass
1 teaspoon basil pesto (store-bought or homemade – fresh is best)
15 ml lemon juice
3-5 fresh basil leaves for muddling
Method
Caprese Skewers:
On a wooden skewer, thread the 2 mozzarella, 2 basil leaves and 2 cherry tomatoes (alternating between each), until the skewer is full.

Put the skewers on a plate and drizzle with extra virgin olive oil and lemon juice – set aside.
Mocktail:
Rim a rocks glass with a lemon wedge.

Put celery salt on a saucer, and rotate the rim of the glass in the celery salt – set aside.

In a shaker, add the basil leaves and the lemon juice. Muddle with a cocktail muddler or the back of a wooden spoon until the liquid is green and the leaves are well bruised.

Now add ice to the shaker, along with the tomato juice, basil pesto and the pinch of celery salt.

Shake vigorously, until chilled.

Add ice cubes to the prepared glass.

Carefully fine strain into the glass using a sieve, but not disturbing the salted rim.

Stir and garnish with a Caprese skewer.