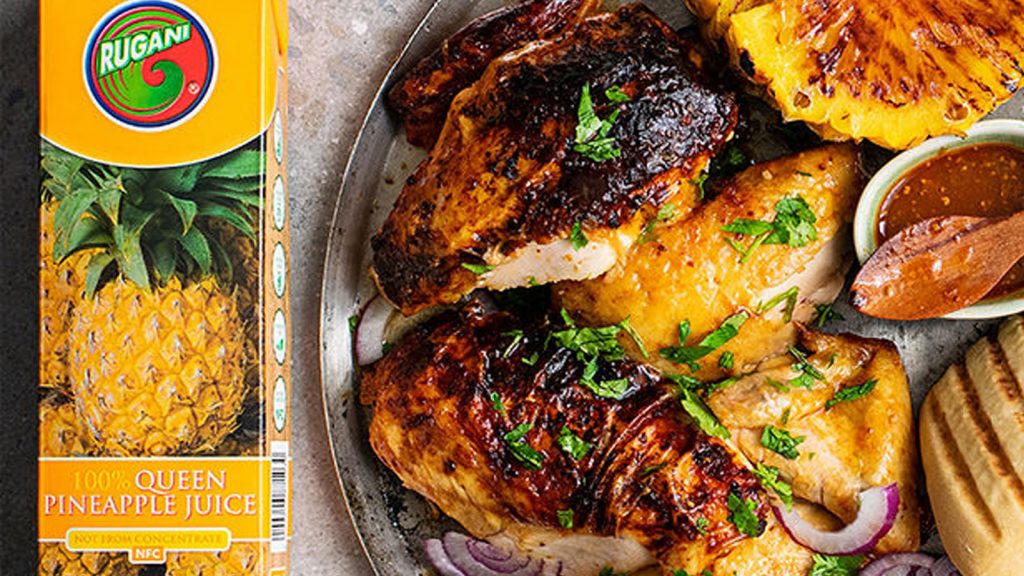 By Simone Nel, Yellow Papaya for Rugani JuiceCoach.
.
Create a flavoursome, tangy meal for your family and friends to enjoy together using a delicious pineapple marinade to add some summer to your chicken.
Ingredients
For the marinade:
¼ cup soy sauce
¼ cup brown sugar
3 cloves garlic
1 tbsp grated ginger
1 tsp sesame oil
2 sprigs coriander, washed and chopped
6 chicken pieces
Regular Ingredients:
1 cup whole wheat cous cous
1 cup hot vegetable stock
1 tbsp basil pesto
1 red pepper, cut into slices and roasted
4 baby marrows, sliced
Method
Mix all the ingredients for the marinade.

Place the chicken pieces in the marinade and marinate overnight.

Preheat oven to 200 °C.

Place the chicken and marinade in a roasting tray and cover with foil.

Place in preheated oven and turn the oven down to 180 °C.

Cook for 35 minutes and remove foil. Cook further until browned and cooked through completely.

While the chicken is cooking, make the cous cous.

In a bowl, mix the cous cous, vegetable stock cover and let sit for 15 minutes or until all the water has been absorbed by the cous cous. Add the basil pesto and mix .

Top with roasted red pepper and sliced baby marrows.

Serve with roasted chicken and roosterkoek and optionally roasted pineapples.