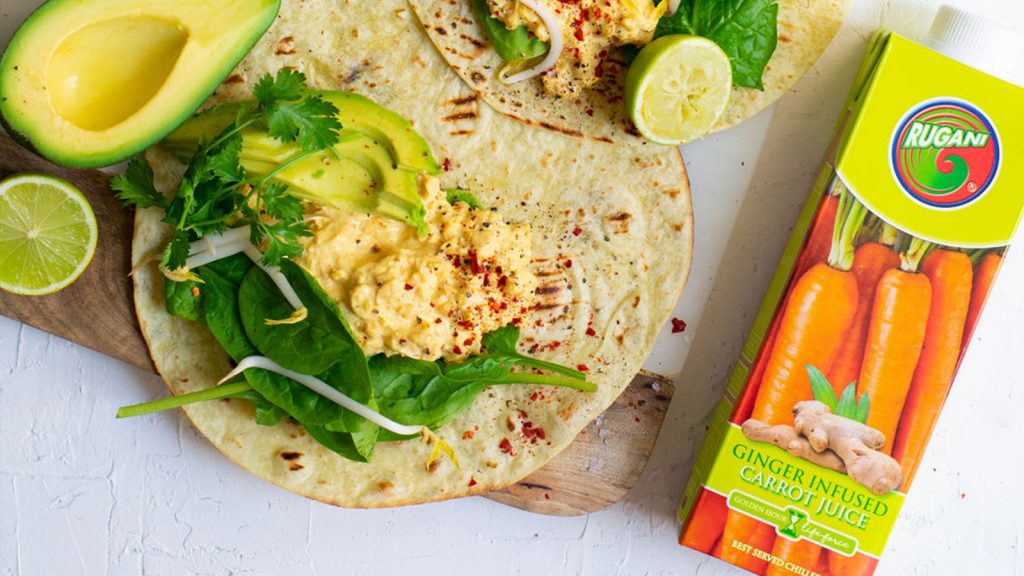 By Simone Nel, Yellow Papaya for Rugani Juice.
.
A wrap is convenient and satisfying meal that allows for variety and lots of cooking fun. Enjoy our take on a wrap with a ginger twist to it.
Ingredients
1 can chickpeas, drained
200 ml vegan mayonnaise (available at Food Lovers Market & Woolworths)
½ tsp turmeric
½ tsp cajun spice
½ tsp chilli flakes (omit if you want a milder wrap)
Salt and pepper to taste
A handful of baby spinach leaves for each wrap washed
1 avocado sliced
Bean sprouts for garnish
4 wraps
Method
Place the chickpeas, Rugani 100%GingerInfused Carrot Juice, mayo, and spices in a food processor.

Pulse a few times but don't process too much, you want a coarse texture.

Heat a griddle pan to smoking point. You can use a normal cast iron pan as well if you don't have a griddle pan.

Grill the wraps until they have grill marks on them. Place some baby spinach on each wrap and top with the chickpea mixture, avocado and then bean sprouts. Sprinkle with some extra chili flakes and serve immediately or wrap closed and place in lunch boxes.