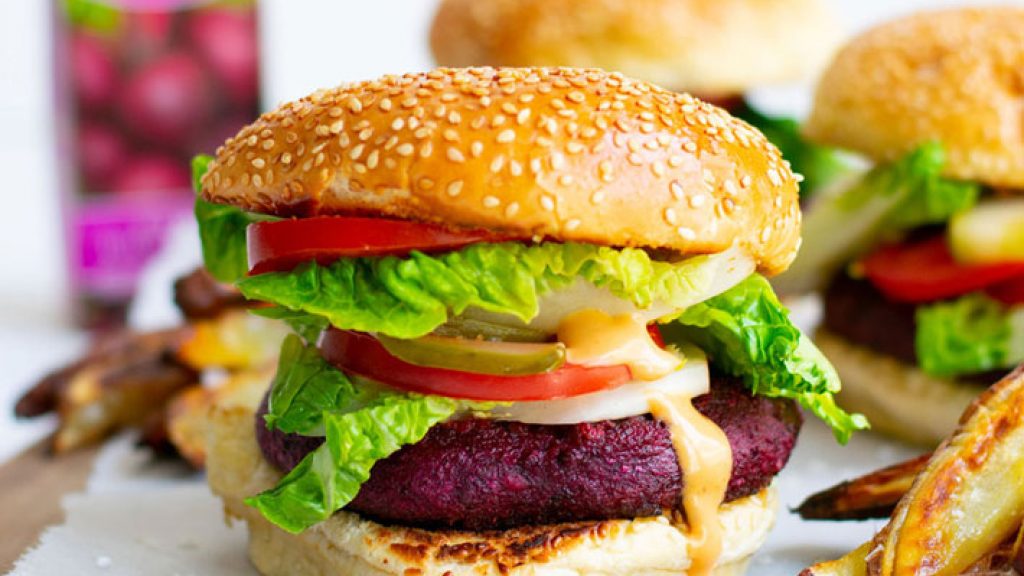 By Simone Kruger, Yellow Papaya for Rugani Juice.
.
Why not create a burger with a tasty plant-based patty, adding colour and a new dimension of flavour to your meal.
Ingredients
2 tablespoons olive oil,
1 small red onion, finely diced
2 garlic cloves, finely chopped
1 tablespoon psyllium husk powder
½ cup rolled oats
2 cans black beans, drained and rinsed
2 medium beets, grated
1½ teaspoons smoked paprika
Salt and freshly ground black pepper, to taste
2 large sweet potatoes, washed
2 tbsp olive oil
4 hamburger rolls
Tomato, sliced
Lettuce washed
Gherkins, sliced
150 ml vegan mayonnaise (available at Fruit Lovers Market and Woolworths)
½ tsp cajun spice
Juice of half a lime
Method
Pre-heat oven to 200 °C.

In a frying pan heat the olive oil and cook the onion until translucent.

Add the garlic and continue cooking for a minute.

In a mixing bowl, mix the psyllium husk powder, oats, black beans, Rugani 100% Beetroot Juice Blend, beets, and spices.

Mix until well incorporated and form into patties. Keep aside on a plate with baking paper.

Cut the sweet potatoes into chip shapes and place them on a baking tray.

Drizzle with olive oil and bake for 30 minutes or until brown and crispy.

For the spicy mayo mix the mayo, Cajun spice and lime. Keep aside.

When the sweet potatoes are almost done start frying the burger patties in a frying pan on medium heat until crispy and brown.

Assemble burgers by placing patties on the bottom, topping with lettuce, tomato and gherkin, and spicy mayo.

Serve immediately with sweet potato fries.