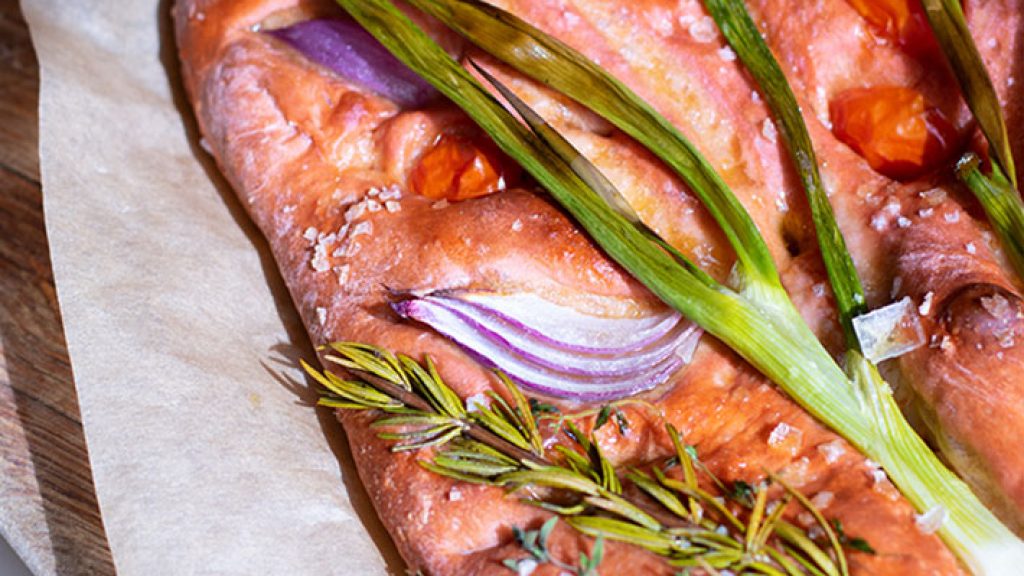 By Simone Nel, Yellow Papaya for Rugani Juice.
.
Take a creative step in creating a unique angle to a traditional foccacia. Lovely to serve with a dollop of butter while still warm
Ingredients
700 g flour
½ tsp salt
½ tsp sugar
1 packet instant dry yeast
Spring onions, whole
Cherry tomatoes
Red onions, cut into quarters
Thyme
Rosemary
Olive oil
Method
Preheat the oven to 180 °C.

Mix the dry ingredients in a mixing bowl.

Add the Rugani 100% Beetroot Juice Blend and mix until the dough comes together.

Knead on a floured surface for 10 minutes. The dough will be quite wet but if it is too sticky, add some flour and dust hands with flour while.

After kneading, place the dough in an oiled bowl and cover with cling film. Leave in a warm area until the dough has doubled in size. Alternatively, leave in the fridge overnight ready to bake the next day.

Form the dough into a round shape and place it on a piece of baking paper.

Decorate the focaccia with the cherry tomatoes, thyme, onion quarters and rosemary.

Sprinkle with salt and olive oil.

Bake for approximately 25 min or until the dough starts to brown on the edges.

Remove from oven and cool and slice and serve.