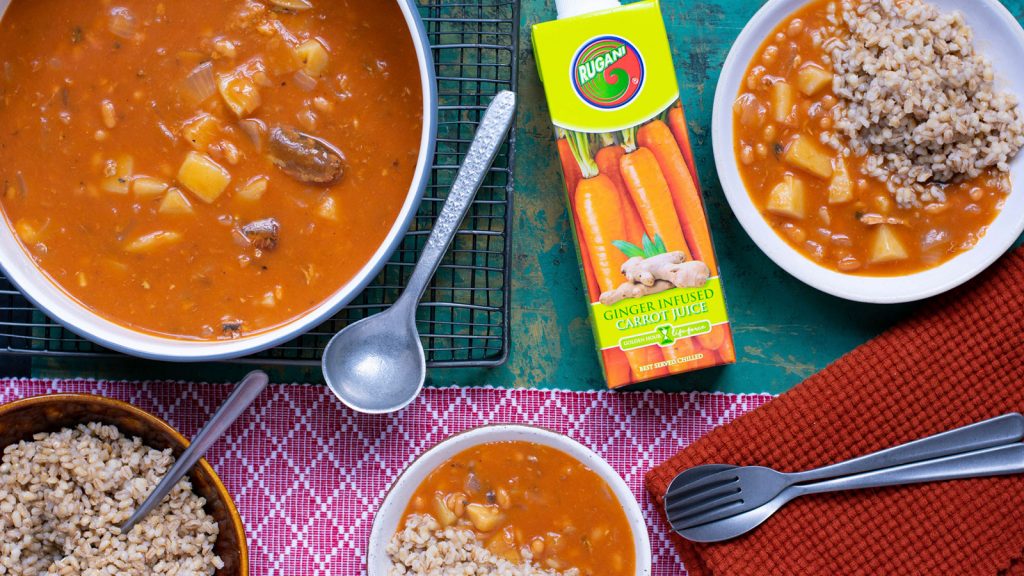 Ingredients
2 tsp vegetable oil
1 onion
1 x 400 g tin pilchards (in tomato/chilli sauce)
1 x 400 g tin baked beans OR lentils (in tomato sauce)
2-3 potatoes (do not peel) OR 1 large butternut
1 stock cube OR 1 packet of soup powder (tomato / brown onion / white onion / vegetable)
1 tsp black pepper OR mixed herbs
1 cup of water
1 cup Rugani 100% Ginger infused Carrot Juice
Optional Additions:
Spinach/Morogo
Curry powder
Instructions
Dice the onions.

Add the oil to a medium-sized saucepan.

Cook the onions on low heat, until soft.

Chop the potatoes or butternut into cubes and add to the onions, cook for 5 minutes.

Add the Pilchards and the beans, cook for a further 5 minutes.

Mix the soup powder OR stock cube with the water.

Add the stock mixture and the Rugani 100% Ginger infused Carrot Juice to the pot and allow to simmer for 10 minutes.

Season with black pepper or mixed herbs.