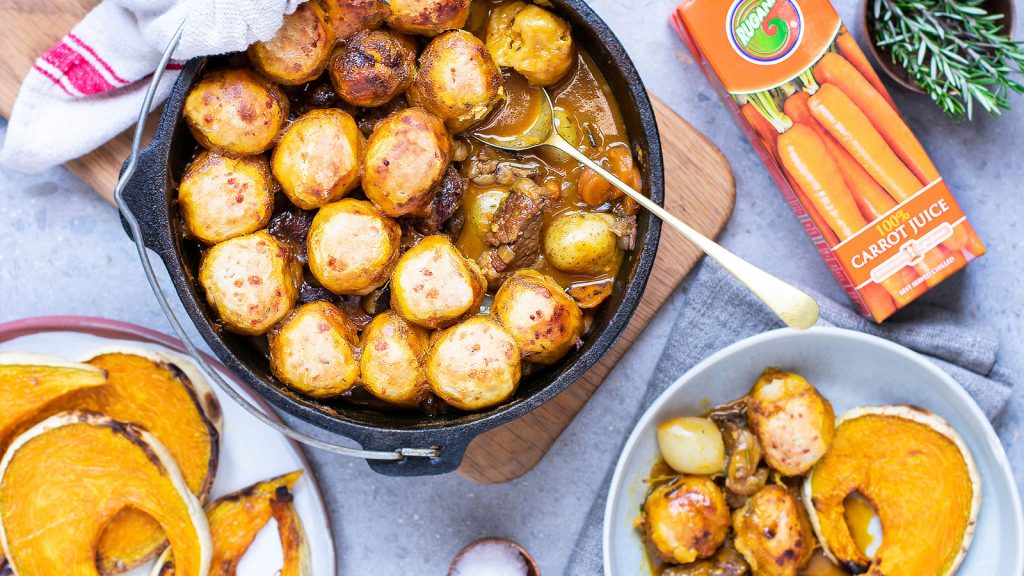 A winning potjie recipe is a must-have in a South African's recipe book. This dish combines veggies and meat in a unique manner to produce a truly "lekker" family meal.
.
Ingredients
Pot:
1 kg beef shin (bone-in), cut into blocks
salt and pepper to taste
1 tbsp of oil for frying
1 large onion, chopped
1 Tbsp garlic, finely chopped
2 Tbsp fresh thyme, chopped
2 Tbsp fresh rosemary, chopped
1 tsp ground cinnamon
½ cup beef stock (vegetable for a vegetarian option)
1 tsp cornflour
8 baby onions, peeled (Increase to 10 for vegetable-based potjie)
4 large carrots (Increase to 6 for vegetable-based potjie)
8 baby potatoes (Increase to 8 for vegetable-based potjie)
Optional: Add 500g spinach for vegetable-based
Dumplings:
500 g cake flour
2 tsp (10 ml) baking powder
1 ½ tsp (7.5 ml) salt
100 g butter
100 g cheddar, grated
1 Tbsp (15 ml) fresh thyme, chopped
1 Tbsp (15 ml) fresh rosemary, chopped
250 ml cold water
Pumpkin slices:
750-800 g pumpkin, sliced
1 tbsp olive oil
Salt and pepper
Method
Method for the pot:
Start a fire until you have some red hot coals and push some aside.

Season your meat with salt and black pepper, then add to the potjie that has been heated over the fire until smoking hot and fry until golden brown.

Remove the meat and keep aside.

Add a teaspoon of oil to the potjie add the onions and fry the onion until golden.

Add the garlic, thyme, rosemary, and cinnamon, and fry for another minute.

Add the meat and bones to the pot, and then pour in the Rugani 100% Carrot Juice and the stock. Simmer with the lid on for 1 hour.

Mix the cornflour with the water then add it to the pot, along with the carrots and baby onions. Carefully stir until well combined.

Place the lid on the potjie and cook for another 50 minutes. Do not stir at all during this time.
Method for the dumplings:
While the pot has started cooking prepare the dumplings. Sift the four, baking powder and salt together.

Rub the butter in with your fingertips or a food processor, then add the cheddar and herbs. Add the water and mix until you have a stiff dough.

Roll the dough into small balls, about the size of a golf ball. Place on top of the meat and vegetables and cook for 30 minutes with the lid on, until the dumplings are ready.

To brown the dumplings place some coals on top of the lid of potjie for 10 minutes or until they are browned.
Method for the pumpkin:
While the potjie is cooking, pre-heat oven to 200 ℃.

Place the pumpkin in a baking tray.

Drizzle with olive oil.

Bake for 40 minutes or until soft and the edges turn brown.

Serve warm with potjie and dumplings.