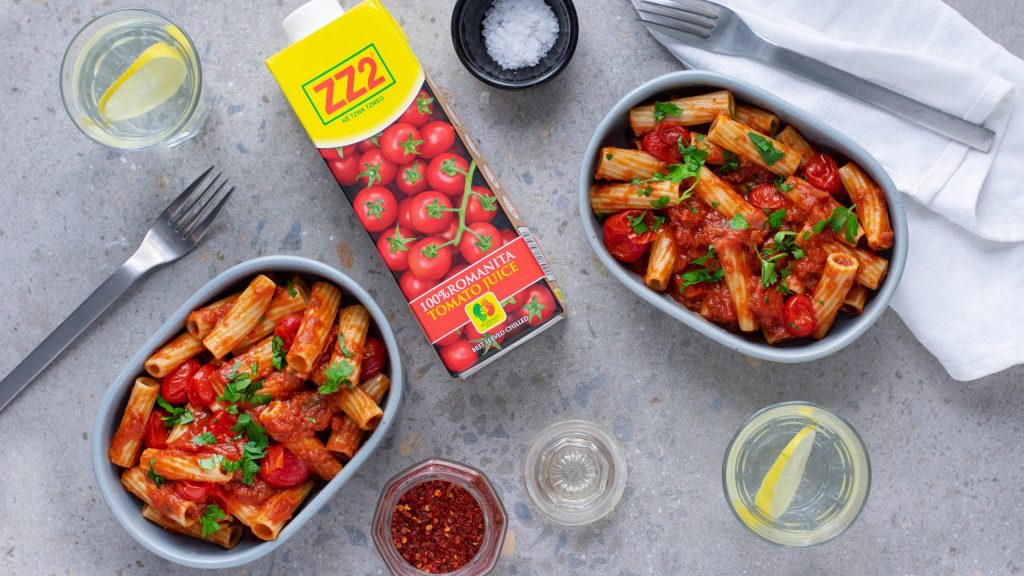 Ingredients
1 tablespoon olive oil
1 medium brown onion, finely chopped
2 garlic cloves, finely chopped and crushed
2 tablespoons tomato paste
1 can of whole peeled tomatoes
1 teaspoon caster sugar
1 tablespoon finely chopped oregano
2 tablespoons finely chopped fresh basil leaves
400g penne pasta
Method
Heat the oil in a saucepan over medium heat.

Add the onion and cook, stirring occasionally until the onions become translucent.

Add garlic, simmer for 1 minute then add tomato paste.

Simmer, stirring, for 1 minute.

Add the tomato, ZZ2 100% Romanita Tomato Juiceand sugar. Bring to a boil.

Reduce to low heat. Simmer for 20-30 minutes or until the sauce has slightly thickened.

Add oregano and basil, and season with salt and pepper.

Meanwhile, cook pasta in a saucepan of boiling salted water, following packet instructions until tender.

Drain and toss the pasta through the sauce.

Top with freshly chopped basil and olive oil.