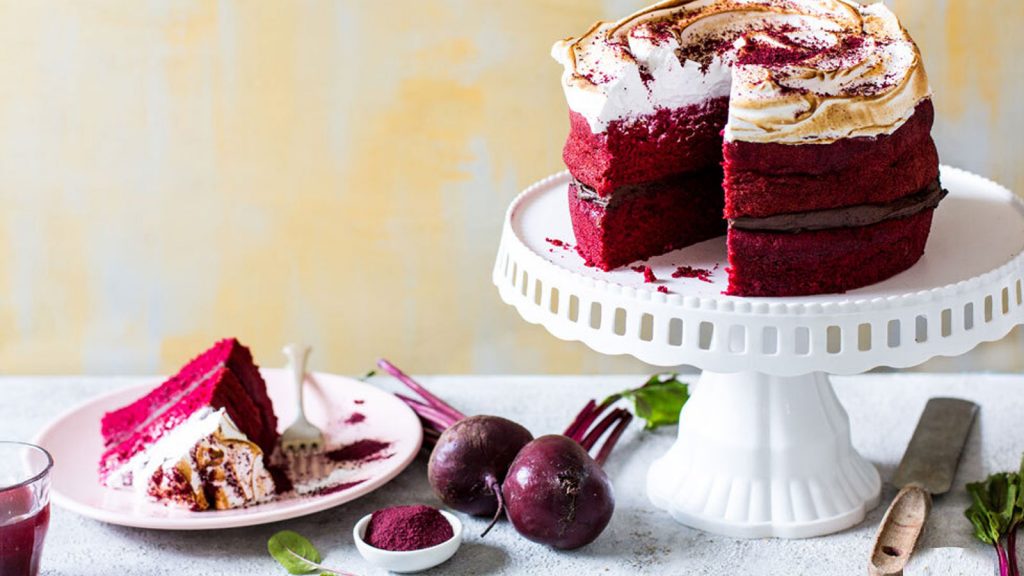 By Illanique van Aswegen, Crush Magazine.
.
A fun take on a classic redvelvet cake using beetroot juice with a brûléed marshmallow-like frosting.
Ingredients
Beetroot Cake
4 large eggs
1½ cups(375 ml / 300 g) sugar
⅓ cups(80 ml) sunflower oil
2½ cups(625 ml / 375 g) self-raising flour
⅓ cup(80 ml) sour cream
1 tbsp (15 ml) cocoa powder
1 tsp (5 ml) vanilla essence
Red gel food colouring
Ganache
½ cup(125 ml) cream
1 cup(250 ml / 165 g) dark chocolate, finely chopped
Marshmallow Frosting
⅓ C (80 ml) water
⅔ C (160 ml / 150 g) caster sugar
3 large egg whites
½ tsp (2.5 ml) cream of tartar
To Serve
Dried beetroot powder
Method
Beetroot Cake
Preheat the oven to 170 °C and line 2 x 18 cm cake tins.

Combine the eggs, sugar and oil and mix with an electric mixer for 2 minutes. Whisk in the flour, beetroot juice, sour cream, cocoa and vanilla. The natural colour of the juice will give the cake a pink tinge. If you prefer a bolder colour then simply add a few drops of red gel food colouring.

Divide the batter between the two tins and bake, 30-40 minutes until a cake tester inserted into the centre comes out clean. Cool in the tin for 10 minutes before transferring to a cooling rack.
Ganache
Heat the cream over medium heat until warm. Pour it over the chocolate and stir until smooth and melted. Allow it to cool for 20-30 minutes until spreadable.
Marshmallow Frosting
Combine the water and sugar in a saucepan over low heat. Stir until the sugar has dissolved. Turn the heat up to medium and simmer until it reaches 115 °C on a candy thermometer.

Whisk the egg whites and cream of tartar together with an electric mixer until soft peaks form. Keep the motor running while drizzling in the warm sugar syrup in a slow steady stream. Whisk 4-5 minutes until stiff and glossy. The mixture should be cool.

To assemble, sandwich the two cakes together with the spreadable ganache. Dollop the frosting on top and swirl it around with the back of a big spoon. Use a blowtorch to carefully brûlée the frosting until lightly toasted. Top it off with a sprinkling of dried beetroot powder.