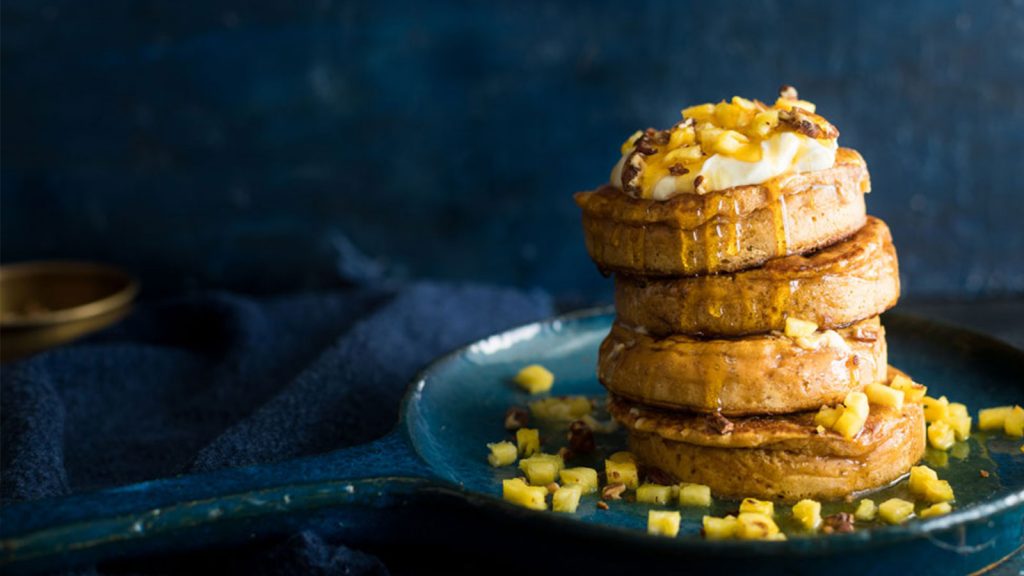 By Karl Tessendorf, Crush Magazine Coach.
.
Why not make breakfast something out of the ordinary? See our delicious twist to crumpets and enjoy the flavour surprise…
Ingredients
Crumpets
300 g cake flour
10 g instant yeast
1 tsp (5 ml) bicarbonate of soda
1 tsp (5 ml) salt
½ tsp (2,5 ml)cinnamon
1 cup(250 ml) milk
2 tbsp (30 ml) sugar
½ cup (125 ml) water
2-3 crumpet/egg rings
Whipped Lemon Cream Cheese
250 g tub of cream cheese
1-2 tbsp (15-30 ml) icing sugar
Zest and juice of 1 lemon
2-3 tbsp (30-45 ml) milk
Garnish
1-2 tbsp (15-30 ml) syrup/honey
100 g mixed nuts, toasted
3-5 slices of fresh pineapple, finely cubed
Method
Crumpets
Add the flour, yeast, bicarb, salt and cinnamon to a large mixing bowl and whisk to combine.

Add the milk to a small saucepan over medium heat and then stir in the sugar when the milk is warmed. Remove the milk from the heat and add the water and Rugani Carrot & Pineapple Juice.

Pour the liquid into the flour mixture and whisk well until you have a smooth batter. Cover the bowl and leave to prove for 1 hour. After 1 hour it should have doubled in size and should be soft and pillowy.
Whipped Lemon Cream Cheese
Make the cream cheese topping while you wait for the batter to prove. Add the cream cheese to a mixing bowl, then add 2 tablespoons of milk. Whisk well with a hand whisk until the cream cheese is light and fluffy.

Add another tablespoon of milk if needed. Stir in the syrup and lemon zest and then add lemon juice to taste. It should be light ,sweet and lemony.
Crumpets cont.
Preheat a non-stick pan over medium heat. Grease the crumpet rings with butter and pop them into the pan to heat up.

Using a measuring cup, add about a ⅓ of a cup of batter into the rings so that they are half full. Cook for 3 minutes without moving. Carefully remove the rings using a pair of tongs then carefully flip the crumpets. Cook for an additional 30-40 seconds and then remove from the pan

Re-grease the rings and repeat the process until all the crumpets are cooked.

Serve the crumpets with whipped cream cheese, toasted nuts chopped pineapple with a generous drizzle of your favourite honey or syrup.