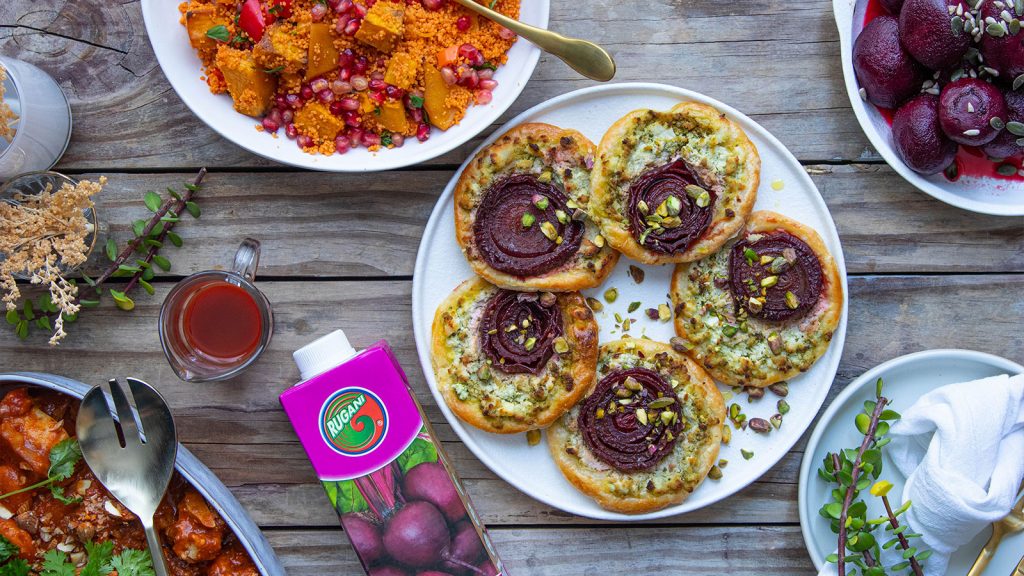 By Simone Nel, Yellow Papaya – Food/Liquid Stylist and Photographer, a trained chef and a passionate supporter of local goods
These lovely Summer tarts make a great starter to a meal and will tantalise your taste buds with their sweet, sour and earthy flavours.
Ingredients
1 roll puff pastry defrosted and kept in the fridge till ready to use
200 g ricotta cheese
1 Tbsp basil pesto
2 red onions, sliced into 2 cm rings (keeping the rings intact)
1 tsp honey
Pistachios for garnish
Method
Pre-heat oven to 180 ℃. Line a baking tray with baking paper.

Place a saucepan over low heat and add the Rugani 100% Beetroot Juice and honey.

Carefully place the red onion slices in the pan making sure to keep the rings intact.

Cook the onions in the beetroot mixture over low to medium heat until the juice has reduced to a syrupy consistency. Remove from heat and cool.

Flour your kitchen counter. Using a circular pastry cutter cut 6 circles from the puff pastry and place on prepared baking sheet. Place back in the fridge.

Mix the ricotta and pesto together in a small bowl.

Remove the puff pastry from the fridge and top with the ricotta and then a slice of the beetroot red onion.

Bake for 25 minutes or until the puff pastry is cooked through. Sprinkle with chopped pistachio nuts and serve warm.