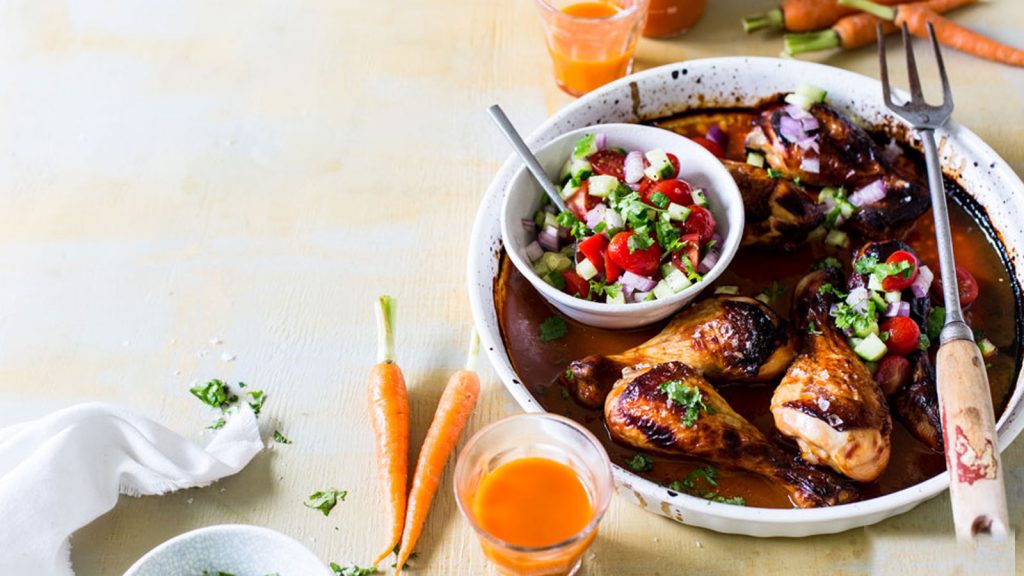 By Illanique van Aswegen, Crush Magazine.
.
Create a Mediterranean feast with this Rugani 100% Carrot & Pineapple Juice marinade and fresh salsa.
Ingredients
3 tbsp (45 ml / 60 g) honey
2 tbsp (30 ml) soy sauce
2 tbsp (30 ml) Sriracha sauce
8 (800 g) free-range chicken drumsticks
Salsa
1½ cups(375 ml / 270 g) cocktail tomatoes, halved
1½ cups(375 ml / 270 g) cucumber, diced
¾ cup(100 g) red onion, finely chopped
1 tbsp (15 ml) olive oil
1 tbsp (15 ml) lemon juice
Salt and pepper
Method
Marinated Chicken
Whisk the juice, honey, soy sauce and Sriracha sauce together. Pour it into a large Ziploc bag; add the chicken and leave to marinade in the fridge for at least 40 minutes or overnight.

Pre-heat the oven to 200 °C. Add the chicken with the sauce to a baking dish and roast for 45 minutes.
Salsa
Combine all of the ingredients and season to taste. Top each portion of chicken with some salsa and scatter a bit of coriander on top.