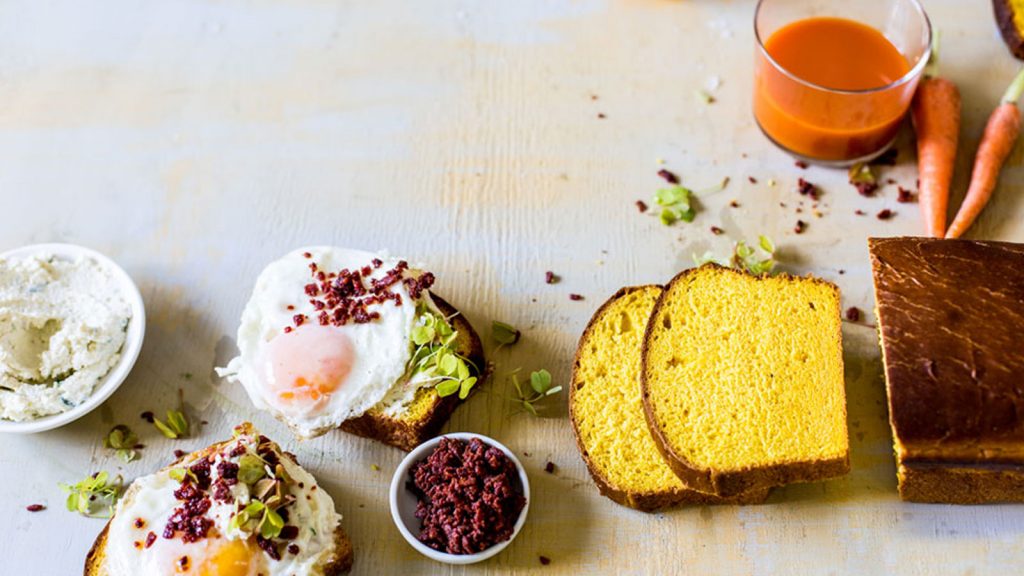 By Illanique van Aswegen, Crush Magazine.
.
Make this flavoursome bread to add to your breakfasts, lunchboxes or lunches. Filled with ingredients such as turmeric, Rugani 100% Carrot Juice, crème fraiche and honey, it creates a delicious variety to your plate.
Ingredients
Bread
3 cups(750 ml / 375 g) cake flour
3 g instant yeast
½ tsp (2.5 ml) turmeric
⅓ cup(80 ml / 80 g) crème fraîche
1 tbsp (15 ml / 20 g) honey
½ tsp (2.5 ml) salt
1 tbsp (15 ml) milk
Creamed Ricotta
2 cups(500 ml / 360 g) ricotta
¼ cup(60 ml) crème fraîche
2 tsp (5 ml) chives, chopped
2 tsp (10 ml) Dijon mustard
Salt and pepper
To Serve
1 tsp (5 ml) olive oil
250 g chorizo, sliced (for a vegetarian alternative, replace the chorizo crumbs with finely chopped fried mushrooms)
6 fried eggs
Handful sorrel, basil or micro herbs
Method
Bread
Combine all of the ingredients, except for the milk, in the bowl of an electric mixer with a dough hook attachment and knead on low speed, 8 minutes until smooth. Scatter in more flour if the mixture is too wet.

Form the dough into a smooth ball and place in a large lightly oiled bowl. Cover with a cloth and leave to rise in a warm place until doubled in size (1 hour).

Lightly grease a 22 cm x 8 cm loaf tin. Knock down the dough until smooth. Form it into a cylinder that fits snugly into the tin. Place dough in the tin, cover with a cloth and leave to rise in a warm place for a further 1 hour.

Pre-heat the oven to 180 °C.5.Brush the top of the dough with the milk and bake until golden –approximately 40 minutes. It is ready once the inside temperature of the bread reaches 85-100 °C. Cool in the tin for 10minutes before transferring to a cooling rack.
Creamed Ricotta
Combine all of the ingredients in a food processor and blend until smooth. Season to taste.
To Serve
Heat the oil in a pan over medium heat. Add the chorizo and fry for 2-3 minutes until crisp. Drain on kitchen paper and blend in a food processor until fine.

Fry the eggs to your liking.
To Assemble
Spread some creamed ricotta onto the bread slices, top each off with a fried egg and some chorizo crumbs. Garnish with sorrel, basil or micro herbs.