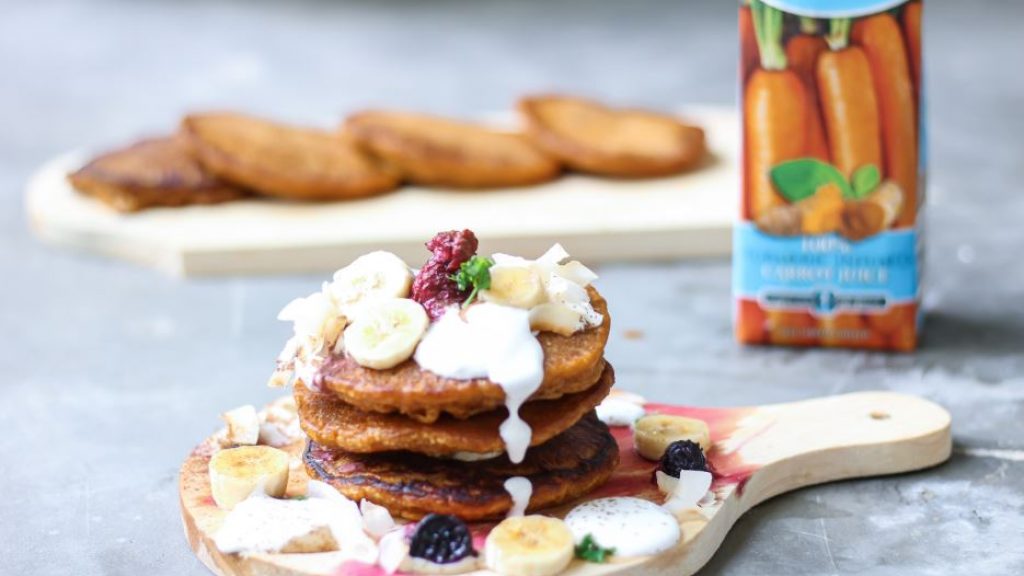 Developed by Michaela Leach, Health Alignment.- Plant-Based Chef, Food Photographer, Recipe Developer and soon to be Certified Vegan Nutrition Health Coach.
.
These easy to make Carrot Flapjacks make for excellent breakfasts or lunch box fillers. They are so simple and fun to make with kids. They get a powerful punch of nutrients from the Rugani Turmeric-infused Carrot Juice
Ingredients
Flapjacks:
2 cups all-purpose flour
1 tsp baking powder
1 tsp round cinnamon
1/8 tsp ground nutmeg
3 Tbsp maple syrup
1 Tbsp coconut oil, plus a bit more for frying
2/3 cup finely grated carrots
Pinch of salt
Toppings:
Fresh fruit such as bananas and berries
Toasted coconut flakes
Nut butter
Coconut cream
Granola
Cinnamon and sugar mix
Method
Mix together all of your dry ingredients, including the grated carrots.

Add in all your wet ingredients and mix until well combined.

Place your pan on the stove at medium heat with a bit of coconut oil.

Once the pan is hot, scoop 1/4 cup of the mixture into the pan.

Allow it to cook for a good 2 minutes watching for bubbles to form. Flip over and cook for a further 1 minute.

Repeat until batter is finished.

Now for the fun part, stack them up with some bananas in between each layer and just cover them with all your favourite toppings or you can enjoy plain with some cinnamon and sugar.