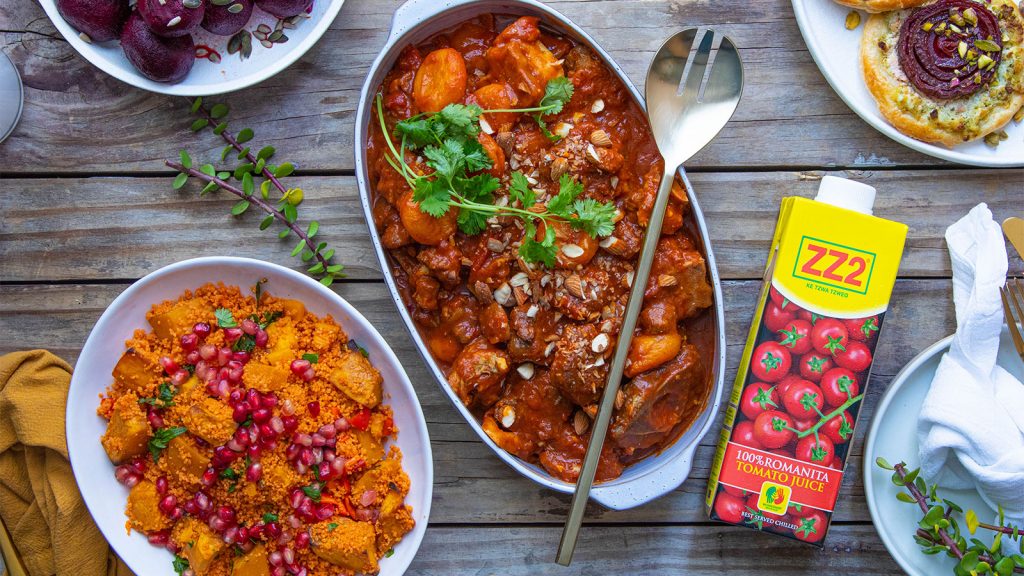 Ingredients
50 ml cooking oil
1 cup onion, finely chopped
3-4 cloves garlic, chopped
Seasoning:
2 Tbsp cumin
2 Tbsp paprika
2 Tbsp fennel
1 Tbsp cinnamon
3-4 bay leaves
3 Tbsp dried mixed herbs
1.5-2 kg stewing lamb, fat trimmed off
½ cup tomato puree
2 cups tomatoes, chopped
1 cup dried apricots
1 cup beef stock
Method
Rub the meat with the seasoning and set aside.

Heat oil in a pot, then add the diced onion and sauté till cooked

Add the garlic and continue to sauté

Add the seasoned meat to the pot and allow it to brown for about 15 minutes.

Once the meat has browned add the ZZ2 100% Romanita Tomato Juice, tomato puree, diced tomatoes and dried apricots. Top with the beef stock.

Bring the stew to a boil, then reduce heat to a simmer.

Leave the stew to simmer for 2 hours on a low heat. Stirring often and topping up with water when required.

Cook till soft and tender.