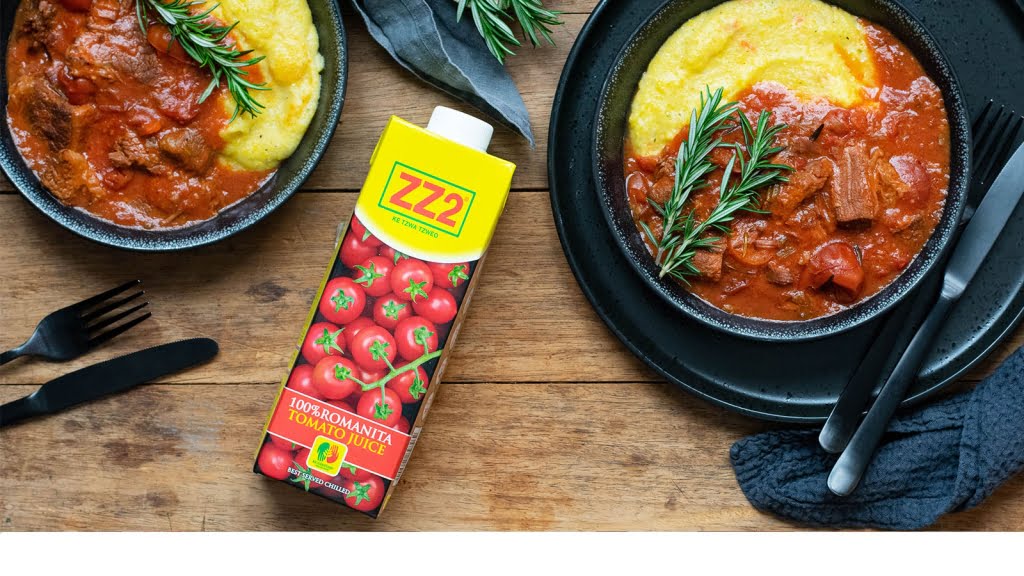 This rich tomato beef stew is the perfect comfort food for colder days. Not only is it delicious, but it is nutritious as well. Heating tomatoes and our ZZ2 100% Romanita Tomato Juice, significantly increases their levels of lycopene. Lycopene is an antioxidant with many health benefits.
.
Ingredients
400g stewing beef
2 Tbsp olive oil
1 onion chopped
2 Rugani carrots peeled and chopped
2 cloves garlic crushed
2 Tbsp tomato puree
250ml beef stock
300g ZZ2 Romanita tomatoes
2 sprigs thyme
2 sprigs rosemary
1 bay leaf
Salt and pepper to taste
Polenta to serve (made according to package instructions)
Method
Preheat the oven to 160°C.

Heat a large ovenproof pot over medium heat.

Add one tablespoon of olive oil and brown the beef. Remove the beef from the pot and keep aside.

In the pot, add the other tablespoon of oil and cook the onion, carrot, and garlic for 4-5 minutes or until the onion is translucent.

Add the beef back into the pot and stir through.

Add the ZZ2 100% Romanita Juice, beef stock, ZZ2 Romanita tomatoes, thyme, rosemary, and bay leaf.

Cover the pot and place it in the oven for 2 ½ hours, checking often to stir and make sure there is still liquid in the pot.

Remove the cover after 2 hours to let the sauce thicken for the last 30 minutes, if the sauce isn't thick yet.

Season to taste with salt and pepper.

Serve with polenta.