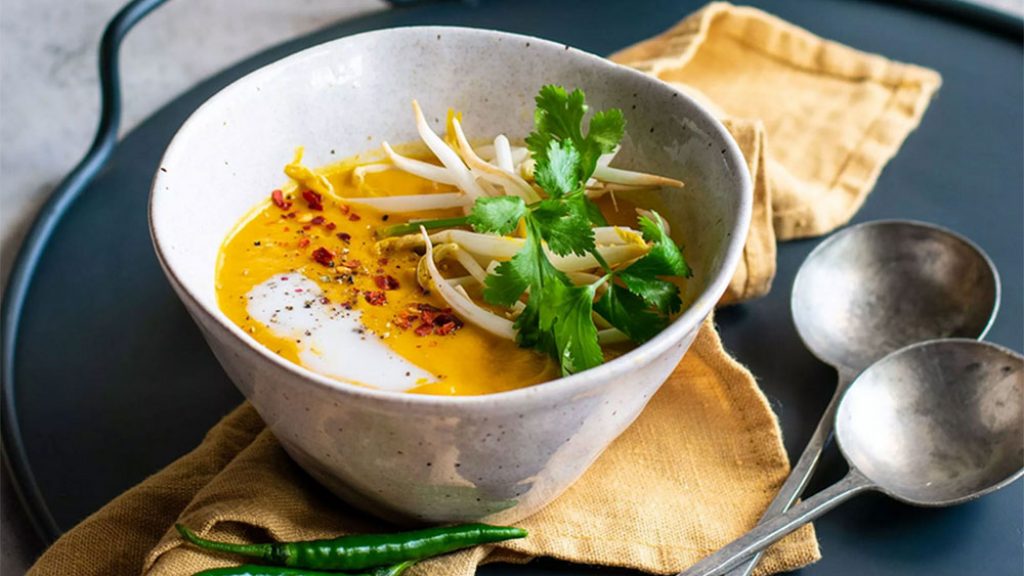 By Simone Nel, Yellow Papaya for Rugani Juice.
.
Spicy and filled with goodness, this tantalizing soup is perfect for a cold, winter's meal.
Ingredients
1 tbsp olive oil
2 celery stalks, roughly chopped
1 onion, roughly chopped
2 large carrots, roughly chopped
2 sweet potatoes, peeled and roughly chopped
½ tsp Thai red curry paste
4 sprigs coriander, extra for garnish
200 ml vegetable stock
1 stem lemongrass
Salt and pepper to taste
Garnish:
– Bean Sprouts
– Chilli Flakes
– Coconut Milk
Method
In a saucepan heat the olive oil and fry the celery, onions and carrots till golden brown.

Add the sweet potato, curry paste and coriander. Fry for 1 minute.

Add the vegetable stock and cook till all the vegetables are soft.

Place all ingredients in a blender and add the Rugani juice.

Blend till smooth and adjust seasoning to liking.

To garnish top with coconut milk, sprouts Chilli Flakes and coriander.

Serve immediately.