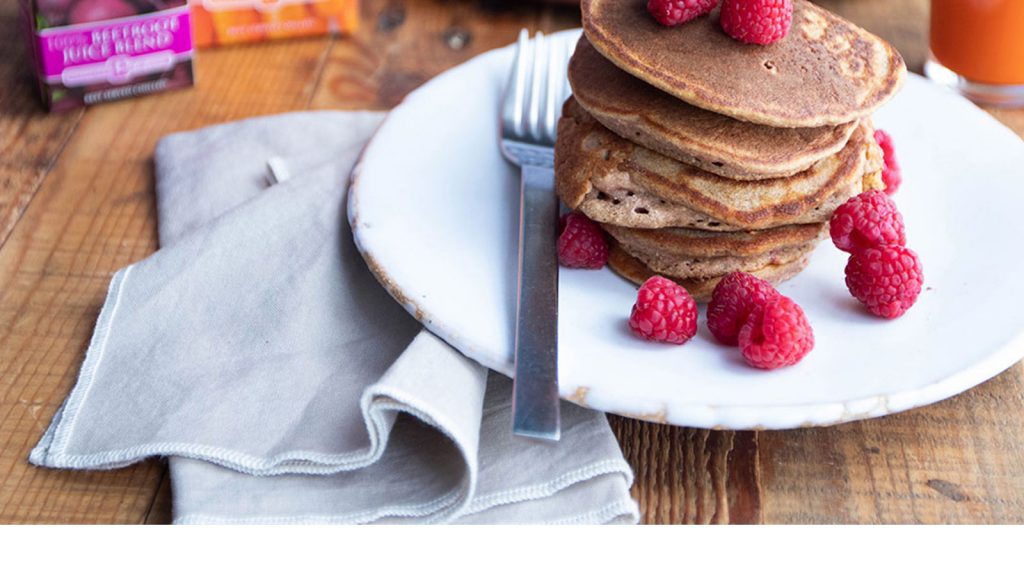 By Melissa Lainn, an Integrative Nutrition, Health and Wellness Coach
.
Treat your loved ones with these scrumptious homemade crumpets, topped with raspberries. We've added a twist to this simple and classic homemade crumpet recipe. Colourful veggie juices enhance the taste and add natural colour. Perfect for a special breakfast or brunch!
Ingredients
3 large pasture raised eggs
¾ cup almond milk
½ Tbsp freshly squeezed lemon juice
1 tsp vanilla extract
½ cup coconut flour
1 tsp cinnamon
½ tsp baking powder
½ tsp baking soda
Pinch of sea salt
½ cup arrowroot / 1 cup cornstarch
¼ cup almonds, roughly chopped
¼ cup coconut oil, for greasing pan
1 cup fresh raspberries, for garnish
Method
Whisk the eggs, then add the almond milk, lemon juice, Rugani juice and vanilla and whisk again until well blended.

In a separate bowl, mix the coconut flour, cinnamon, baking powder, baking soda, salt, and arrowroot/cornstarch.

Add the dry ingredients to the wet ingredients, ¼ cup at a time, while continuously whisking. Once combined, gently fold in the almonds and half of the raspberries.

Grease a large pan with the oil and place over medium heat. Once the pan is hot, pour the batter into the pan at the desired crumpet size.

Cook the crumpets until bubbles appear, then flip. The crumpets should cook on each side for 2-3 minutes. Repeat with the rest of the batter.

Top each pancake with remaining raspberries and enjoy!