Go plant-based this January with #Veganuary
As a ProVeg partner, Rugani Juice supports the Veganuary campaign. Our veggie extracts are great to include in a vegan diet, we have a wide range of veggie and fruit juices, it makes reaching your 5 servings per day so convenient!
WHAT IS VEGANUARY?
Since 2014, Veganuary has inspired and supported more than one million people in 192 countries to try vegan for January – and beyond. They have worked with businesses to drive up vegan food provision in shops and restaurants, and have made veganism more visible and accessible through their work with national and international media. This year, ProVeg South Africa is running the campaign in South Africa.
WHY SHOULD I TRY PLANT-BASED?
Whether your new year's resolutions are to lose weight, support your immune system or find new ways to save the planet – Veganuary 2021 has you covered! Kickstart your goals this January by pledging to eat a vegan diet for 31 days.
SIGN UP NOW!
When signing up, you will receive an email from the Veganuary team every day for the rest of January. Each email includes valuable information about a vegan diet. If you are new to a plant-based lifestyle, it is important to receive education on how to balance your plate and which foods to start eating more of. Veganuary offers daily recipes to make sure you remain inspired throughout the month, as well as insight on many topics ranging from Vitamin B12 to Vegan Chocolate!
To provide support to everybody who is taking part in the challenge, ProVeg South Africa will be hosting a live Q&A with registered dietitian, Michelle Zietsman, every Wednesday evening at 7pm during the month of January. ProVeg South Africa will be asking her some questions on achieving optimal nutrition on a plant-based diet and then they will hand it over to the listeners for questions. The Live Q&A will be hosted on their Instagram platform and saved onto their feed afterwards.
CLICK HERE TO SIGN UP FOR VEGANUARY NOW!
VEGAN MEAL PLAN & RECIPES
To support your plant-based journey, Food Lover's Market in partnership with Veganuary and ProVeg, have created a simple One Week Vegan Meal Plan, and delicious recipes with Rugani Juice, including a Queen Pineapple Mocktail, Green Power Smoothie and a Beetroot Latte. Also see our Rugani Juice Recipes page for many more delicious vegan friendly recipes and our Rugani Juice Blog for expert advice.
RUGANI JUICE DEAL AT FOOD LOVER'S MARKET
Food Lover's Market is running great deals on plant-based products.
Get your 750ml Rugani 100% Juice for only R19.99, exclusively from Food Lover's Market stores nationwide. This deal is valid from 5-17 January 2020: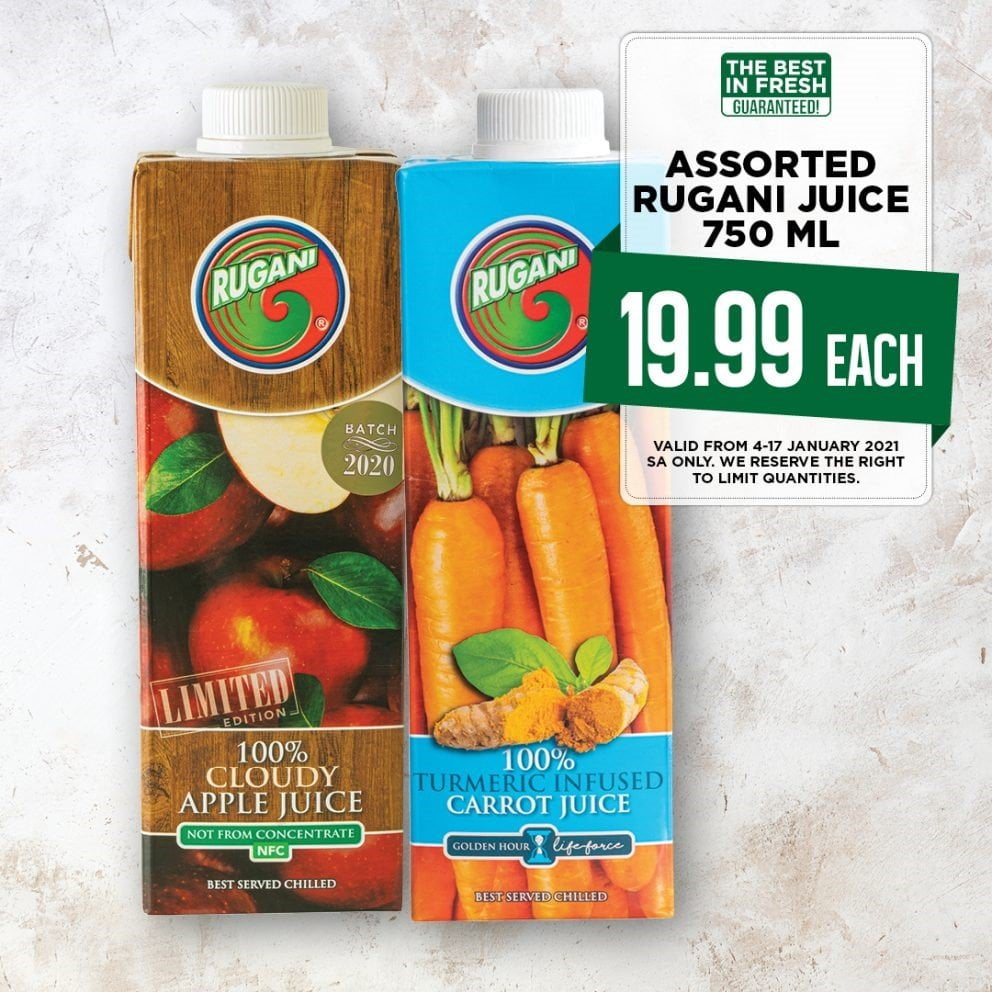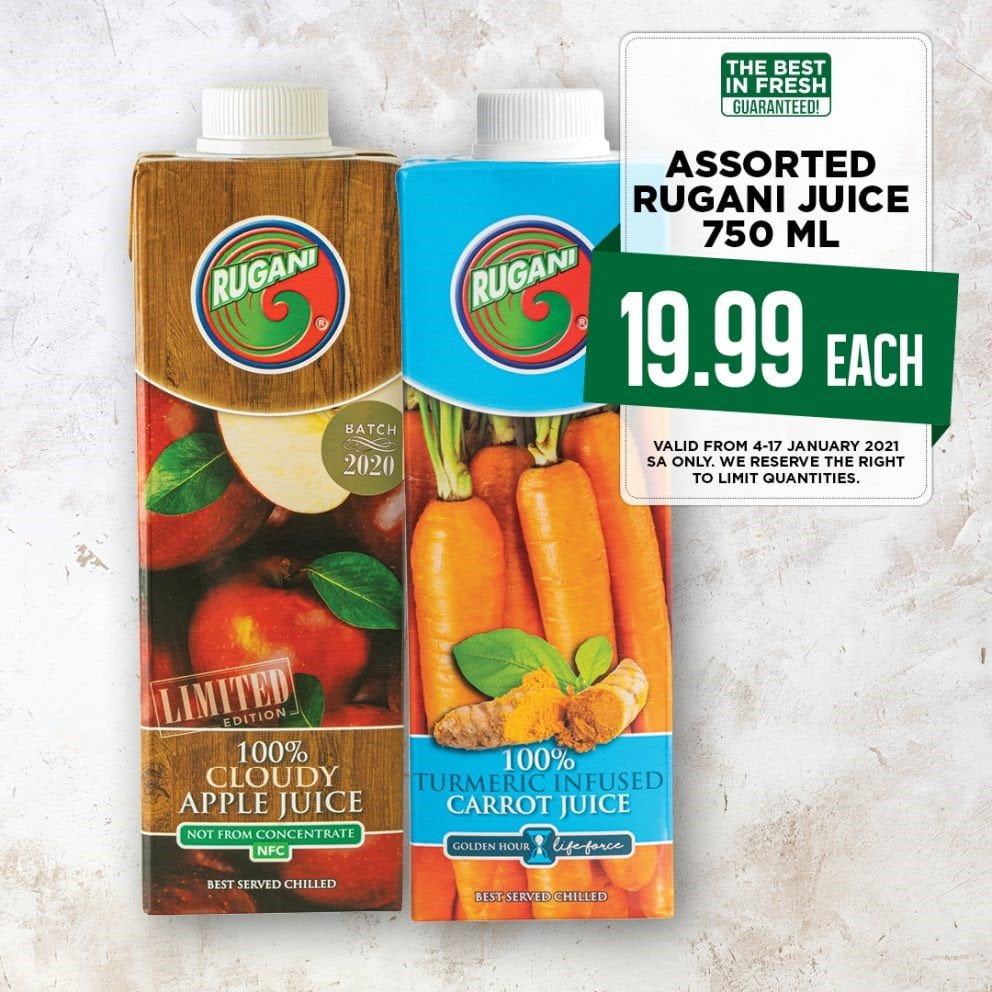 "Your health is what you make of it. Everything you do and think either adds to the vitality, energy and spirit you possess or takes away from it. The food you eat can be either the safest and most powerful form of medicine or the slowest form of poison." – Ann Wigmore
Enjoy your journey to better health!