Have a Happy Healthy Valentine's Day
It's no secret that coming up with some great Valentine's Day ideas can be pretty stressful. Finding a gift, a great idea for a date and wowing your significant other can be a mission, but perhaps even more so when trying to do it in the middle of a global pandemic.
The general stress of the pandemic is not great for your health. Continued strain on your body from stress may contribute to serious health problems, such as heart disease, high blood pressure, diabetes, and other illnesses. Also, the lack of connection so many people feel because of lockdowns and social distancing, is cause for concern. Studies have shown that having poor social relationships was associated with a 29% increased risk of heart disease and a 32% increased risk of stroke. Loneliness was associated with higher rates of depression, anxiety, and suicide, and the numbers are rising since the pandemic started.
There is good news, though!
While things may look and feel different this year, there are still plenty of ways to make Valentine's Day special for your partner, girlfriend, boyfriend, husband, or wife, or even your group of friends. This year, Valentine's Day is the perfect excuse to put in some effort and to connect with the people in your life.
So, I put together a few homemade gifts you can make for someone special in your life as well as 3 simple, but effective, ways to make Valentine's Day special even during a pandemic.
1. Make a Valentines themed drinks menu
Whether you drink alcohol or not, try making a few new cocktails (or mocktails) or your old favourites at home. I love making colourful ones with Rugani's 100% Pineapple, 100% Carrot and 100% Beetroot juices, with add sparkling water or lemonade, and a shot of your favourite liquor if preferred. There are many healthier and non-alcoholic options to try such as the Caprese Bloody Mary Mocktail and the Beetini Mocktail  developed by Jean Harkett. Set the mood with some candles, music and fairy lights, bring out your best glasses and remember to garish them with cherries, pieces of fruit and little umbrellas.
2. Dress up
It might feel silly, I get it, I've been spending most of my days in leggings and a hoodie. But, taking the time to dress up for that one day or meal will not only be great for your mental health but it will make the day a little more romantic. Studies have shown that dressing how you want to feel is a way to embody the state of mind you seek, so go all out!! Put on your best outfit, do your hair, wear the makeup and perfume that you love and enjoy feeling like the king/queen you are with your partner for one day.
3. Handmade Gifts
Handmade gifts are extra special, from cheesy cards to delicious edible gifts, your special someone (and your wallet) will appreciate it so much more than very expensive store bought gifts. Package edible gifts like my favourite Valentine's Meringue Kisses or these moist Blueberry & Beetroot Muffins from Michaela Leach, into a box or a jar, wrap it with a ribbon and finish it off with a handwritten note.
4. Cook a meal together
This can be very romantic and loads of fun. Try a healthy breakfast, lunch or dinner recipe that you've maybe never had before (go check out the Rugani Recipes page for some inspiration). You can also have a themed meal where you incorporate the colour red, or make dishes from a certain culture or time-period. It's a great way to bond, have fun, spend time together and practice your cooking skills.
Here are a few recipe ideas:
Having real, healthy relationships is not only beneficial to your mental health, but to your physical health too. Make sure to nurture them, be grateful for them and enjoy them, no matter what the world throws at you.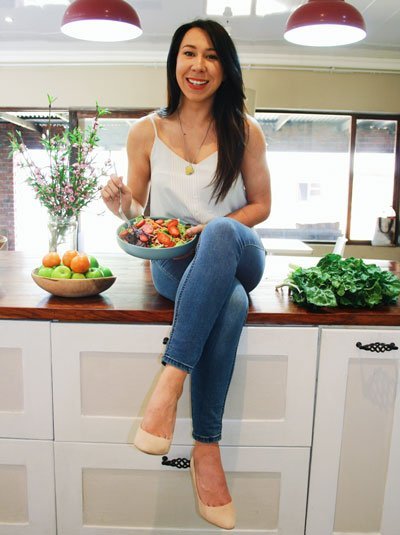 Author Bio:
Melissa Lainn is an Integrative Nutrition Health and Wellness Coach, certified Meditation Practitioner, certified NLP Practitioner and the host of The LifeKraft Podcast. She is passionate about helping people ditch diets, transform their health holistically and find the freedom with food, the energy in their bodies and vitality in their minds that they've always wanted.