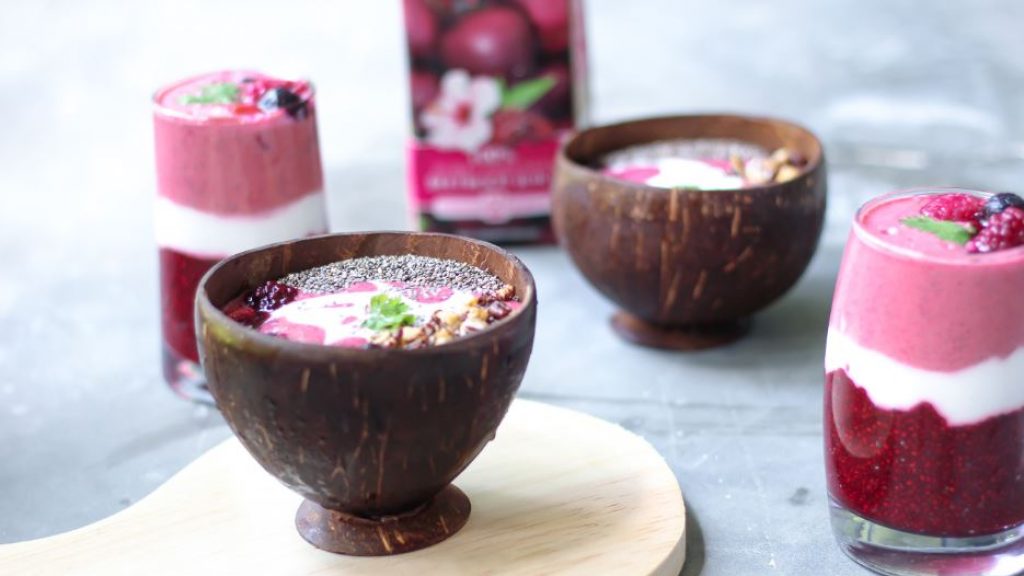 Developed by Michaela Leach, Health Alignment. Also a Food Lover's Market ambassador.
These little breakfast parfaits can actually go down any time of day but they are an awesome way to start your day because they are packed with such great goodness using the new Rugani Zobo-infused beetroot juice.
Ingredients
For the chia seed mix:
1/3 cup of chia seeds
1/3 cup of coconut cream for in between the chia seed layer and smoothie.
For the smoothie part:
3 frozen bananas
1/3 cup of coconut cream
2- 4 dates depending on how sweet you like it
1 tablespoon of your favorite nut butter.
Topping:
Fresh berries and mint
Method
Mix your chia seeds and beet juice together and leave it in a glass jar to soak overnight or for two hours in the fridge.

Once your chia seeds have absorbed all the liquid, divide the mixture into two and pour it into your glass or bowl.

Top the chia seed mixture with the coconut cream to create the second layer.

Add all the ingredients for the smoothie section into your blender and blend until smooth.

Pour the smoothie on top of the coconut cream creating the third layer.

Top off with some fresh or frozen berries and fresh mint and enjoy!